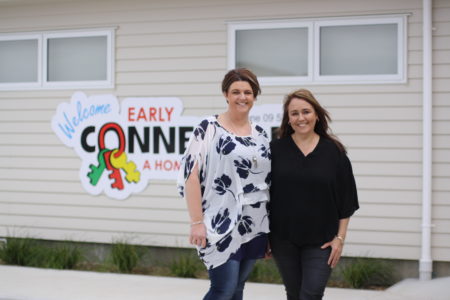 The smell of fresh baking wafts through the centre, and a single word comes to mind – homely.
Early Connections is a beautiful new childcare centre in the heart of Beachlands that feels like your little ones home away from home.
The garden has freshly mown grass a washing line and large sandpit with plenty of space to run and play, while each room has a comfy couch and beautiful paintings on the walls.
"It's the little things that make this centre feel like home," says owner Sarah Harford.
Sarah and Vicki Toussaint started with Connections in the Home as a home-based childcare service in east Auckland, focussing on helping children confidently engage in play, exploration and relationship-building in the home environment.
Sarah says the Early Connections Childcare Centre was not part of their plan, but was prompted by the growing number of families in the Pohutakawa Coast looking to them for childcare.
The centre was started to help meet the needs of those in the area, but the pair says they are determined to stay strong to the home-based philosophies.
"Children feel most comfortable at home, and when children feel comfortable they explore and learn. This is why making this centre feel like home is so important." Sarah says.
They say the key is keeping numbers small, with no intention of filling to capacity.
"These children aren't just numbers on our books. We know each of them by name, we know their families, and we know what each of them needs," says Vicki.
"As soon as we don't know our families, that's when we know we have grown too big," says Sarah.
Healthy home cooked meals by the onsite cook, passionate educators, and lots of room for play are all part of giving the children the best start in life, Sarah says.
"We are invested in the children, and I think that makes all the difference."