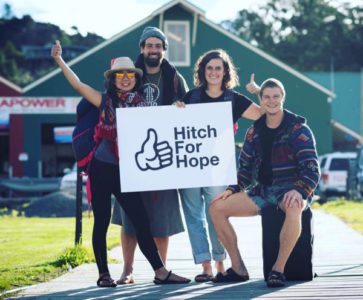 A group of individuals have hitch hiked from Cape Reinga to Bluff to help facilitate the conversation on mental health and raise support for Gumboot Friday.
The United Industries Ltd (UIL) Hitch for Hope team has fundraised for I am Hope and Gumboot Friday.
I am Hope is a charitable trust from which 100 per cent of the donations go to fund critical frontline mental health services.
Gumboot Friday is a fun way to raise money for kids' mental health and was on May 28.
The Hitch for Hope team of seven took it one step further by hitching the length of New Zealand in 10 days.
The idea for the initiative began when Harsha Guntakala, a production manager of Akarana Timbers, East Tamaki, attended a UIL Health and Safety conference.
Aroha McKenzie courageously shared her personal story with the group members.
"I witnessed the pain of a mother who lost her beloved daughter," Harsha said.
Her words provoked positive conversations on the subject of mental health and inspired Harsha to take action by leading a nationwide hitchhiking fundraising campaign.
New Zealand ranked first in youth suicide rate amongst all OCED (Organisation for Economic Co-operation and Development) in 2020.
Last year 137 young people died by suicide and an estimated 3500 attempted to take their own lives in New Zealand.
The suicide rates have increased for four consecutive years.
"What I realised is in our society with everyone around us," Harsha said, "is that people feel alone."
Harsha approached Benjamin Hammond, the group health & safety manager at UIL, for support.
In response, Benjamin pitched it to the UIL managing director John Williams who said, "It's a great idea – UIL with match every dollar donated."
On May 22, the Hitch for Hope team left Cape Reinga.
"Along the way down the country the team met hundreds of members of the public who have gone out of their way to support them," Benjamin said, "getting to Bluff; giving them rides, meals and beds to sleep overnight."
The Hitch for Hope campaign also wanted to promote hitchhiking as a means of sustainable and social transport; "a practical way to bring back the beauty and magic of human encounters through conversation and connection".
The team finished in Bluff yesterday.
Since the team departed, over $1000 per day has been raised.
"Individuals have been incredibly generous in donating," Benjamin said. "This shows there is a strong commitment from people within the community who understand the issue and are personally invested in solutions that will improve outcomes."
They were nearing $10,000 as of Friday.