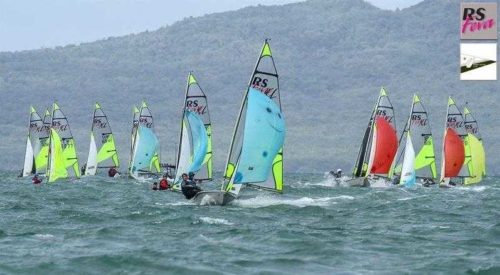 Local Bucklands Beach Yacht Club junior sailors Blake Hinsley and Nicholas Drummond won the RS Feva National Sailing Championships.
The pair, who finished second the previous year, wanted to go one better this year so put in the extra effort and came away with the win at the beginning of April.
The competition was tough with past World 470 Champion and Olympian Simon Cooke and young crew Oskar Masfen finishing 2nd and Mattias Coutts (past Open BIC World Champion) and Aimee Bright finishing 3rd.
Mattias Coutts is the son of Russell Coutts (America's Cup fame) and Aimee Bright is the daughter of Barbara Kendall (Olympic windsurfing legend). Hinsley and Aimee Bright are cousins, so there was plenty of friendly rivalry on the water.
Hinsley earlier this year won the prestigious Tanner Cup and placed 2nd in the Tauranga Cup. Both Hinsley and Drummond will be competing in the World RS Feva Championships to be held in Follonica, Italy in July this year.
Bucklands Beach Yacht Club manager Lyle Tresadern, whose son Wade Tresadern coached the team, noted the raw talent on display with these two sailors, which he believes will develop into something special in the future with their sailing careers.
It's a long time since Bucklands Beach Yacht Club sailors won a major Junior New Zealand regatta and we are immensely proud of them.
The Club last year held a charity dinner with the assistance of the Bucklands Beach Lions Club, raising over $20,000 which was used to purchase yachts and equipment for our junior sailors, says Tresadern.
"The opportunity for our up-and-coming young sailors to utilise the boats and equipment augers well for the future."