Andre Heimgartner teamed up with Yuya Sakamoto to race the HubAuto Corsa team's Ferrari 488 GT3 to P2 in the Blancpain GT Asia Championship in Thailand this weekend.
The weekend's event at the Chang International Circuit was round two of the six-round Blancpain GT Asia Championship and Melbourne-based Kiwi Heimgartner, from Dannemora, plans to compete in the rest of the series as part of the HubAuto Corsa team.
Over two races, Heimgartner and Sakamoto brought home a fourth position and a second position, securing the team sufficient points to move from third to second on the championship ladder with four rounds remaining.
"We didn't have a great time in qualifying as there was a track limits issue, where a lot of our fellow competitors were driving off the track and gaining a lot of time. We qualified P8 and P17 for the two races and before the first race, a competitor meeting saw a decision made to enforce the track limits during the races which we were pleased about," Heimgartner explained.
"In race one we started eighth and charged through to fourth. I did the last stint of the race and caught up to the guys in P3 and P2 but unfortunately I couldn't quite pull off a passing move in the closing laps.
"In race two, I started the race from P17 and moved up to P12, before the pit stops saw us swap driving duties and gain a few spots before Yuya did a great job passing for a few more places — making the most of the green tyres we had saved for that stint.
"With some crashes then ensuing, a safety car was called with just 10 minutes left on the clock. We were P4 on the restart, moving up to P3 and holding on for the finish which we were really happy with — we were even happier when it turned out the car in P2 was underweight, so we moved to the second step on the podium and second in the championship points.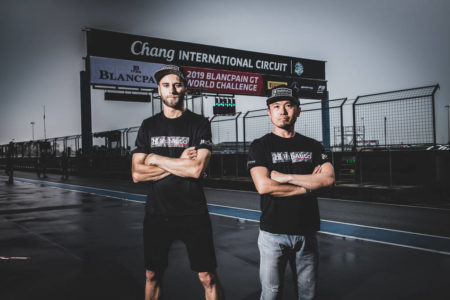 "Overall, I am very happy with the results considering the qualifying issues and pleased to see where we are at in the points standings with the rest of the season ahead of us.
"I am really looking forward to heading to Suzuka in a month's time and to the rest of the series with HubAuto Corsa."
Heimgartner will next be on-track as part of the Blancpain GT Asia Championship for round three at Japan's Suzuka International Circuit across June 22-23
Before then, he will head to Winton Motor Raceway (May 24-26) and Darwin's Hidden Valley Raceway (June 14-16) with Kelly Racing for the Virgin Australia Supercars Championship.