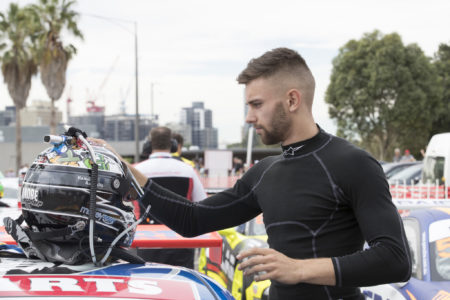 Dannemora's Andre Heimgartner will lead the Carrera Cup Australia field to this weekend's round three of its championship, to be held at Phillip Island from May 26-28.
In a twist to usual proceedings, Heimgartner will have to share the driving duties of his series-leading #777 Bob Jane T-Marts Sonic Motorsport Porsche this weekend thanks to the unique format of the 'Pro-Am' event.
Two one-hour races will be held across the weekend, with each 60-minute hit-out to feature two drivers per car. Heimgartner will be joined in his pursuit to extend his championship lead by close friend and Porsche GT3 Cup Regular Aaron Ireland.
"It is obviously exciting to have Aaron on board with us for this weekend – he has done quote a lot of Porsche racing which is very positive and we have a good working relationship together also, so I am looking forward to seeing what we can do," Heimgartner said.
"It is an interesting format and for me when it comes to what I will be doing in the drivers' seat, the format doesn't really see me doing anything different from the previous rounds," he said.
"My driving time is still around the same length of time, so nothing really changes.
"It is always challenging mentally sharing your drive with another racer, but Aaron is a consistent driver and I know we can work well together, so he will do the job we need and hopefully we can get some results.
With two test days under their belts leading up to this weekend, he said they are well-prepared.
"After finding a few things in our last test day, I am hoping we can translate that into some positive advances this weekend," Heimgartner said.
"As far as the championship goes there is a bit of pressure, but it isn't anything you can stress about this early in the year. There is a long way to go and after such a long gap since our last race (at the Australian Grand Prix in March) I just want to get on with racing."
The Phillip Island Porsche Carrera Cup Australia Pro-Am will be held as part of the latest round of the Shannons Australian Motor Racing Nationals event being held at the venue.
Friday will host three practice sessions at 10.10am (12.10pm NZ), 12.15pm and 2.10pm respectively, before Saturday hosts qualifying at 9.10am and 11.40am for the first one-hour race of the weekend at 2.35pm. Sunday will host a warm-up at 10.40am, before race two kicks off at 12.30pm.