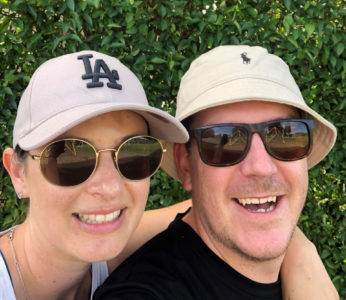 Bride-to-be Alice Kennedy was at her hen's night having the time of her life, when her older sister Sophie took her aside to inform her of the Prime Minister Jacinda Ardern's announcement. Auckland was going into level-3 lockdown, by 6am the following day (March 1).
Shocked and devastated, Alice found it hard to process the news. This can't be happening again, she thought!
After spending close to two years planning the biggest day of her life, she would have to postpone the wedding–for a second time!
Alice and Zach Bell's wedding had been scheduled for March 6 at Everybody's Bar and Eatery, in the CBD.
The first time, the newly engaged couple had set the date for October 24, 2020 and had sent out a save-the-date invite to family and friends
"One week later, we went into lockdown. We were in lockdown for a month. To take the stress away and give us some breathing space, we decided to move the date to a much later date to March 6, 2021," says Alice an occupational therapist with Neuro Rehab.
From the flowers to the photographer, cake and the venue–everything was paid for.
"We even had the wedding rehearsal," says Zach.
The reason Alice delayed her hen's do was because her sister Sophie had specially flown in from Sydney for the wedding.
"We were waiting for Sophie to come out of managed isolation from a quarantine hotel in Auckland. It meant a lot to have her with us for the special day," says the 31-year-old bride-to- be.
"I was so heart-broken when I heard the news. Nothing made sense. I called Zach who was driving home after a drink with a friend to come and be with me. At that moment I just needed Zac by my side. My mum, sister and brother were all very supportive.
"Everyone has been unbelievably helpful," Alice says about once again moving the wedding date with the vendors. "
Zach, a commercial pricing coordinator says that while they were upset and frustrated with their wedding being postponed twice, they hope they "are third time lucky."
The wedding is now rescheduled to June 19.
Zach and Alice say that though it's very upsetting and hard to deal with their predicament, they do understand it is important to keep the country safe. "We count ourselves lucky to be living in this country."
Zach's mum Kerry Bell who is part of the distribution team of Times Media says the disruption is hard to take at a time they were all looking forward to the wedding.
"We had booked in the make-up, hair, tans and then we got the news at the hen's party. I couldn't deal with it so I just went home. It's sad that after a week-long lockdown till
Sunday morning (wedding was scheduled for Saturday) nothing came out of it. There were no community cases."
On an afterthought she adds lightly, "I wouldn't mind if Zach and Alice eloped."