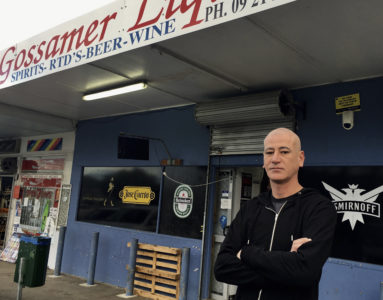 A Pakuranga local is being hailed a hero for his quick thinking following the Gossamer Liquor store theft.
Robert Walters arrived at the store on Friday afternoon, just minutes after the theft, to find the store owner collapsed on the concrete outside the store.
"I saw glass all over the road and when I got out of my car, that's when I saw a man collapsed on the ground," he says.
"He was having a heart attack."
He says when he arrived the storeowner had a weak pulse and didn't appear to be breathing.
"My instincts just kicked in. I yelled for help and the other store owners ran out. Neither had a phone so I used my own to call an ambulance. I started performing CPR and John, the neighbour from next door, ran out and assisted in the CPR, which the ambulance driver says might have been what saved his life."
Walters, who has completed basic first aid training in the past, says emergency services advised them to keep up the compressions until the ambulance arrived.
Walters says according to a neighbour, the store owner had run out after three suspects and thrown a brick at the getaway car window before he collapsed.
Paramedics performed CPR on the owner for about 20 minutes, Walters said, before he was rushed off to Auckland City Hospital in critical condition.
The store owner's nephew, Charhampal Singh says "[Robert] saved a life on Friday and we are very grateful."
Singh says they will be improving the shop security as well as installing security cameras outside the store.
This is not the first time the store has been targeted. The Gossamer Liquor store was robbed at gunpoint in February which Counties Manukau Police posted on Facebook at the time.
"It's hard to survive. We have to be constantly alert, watching outside, being prepared for who will come into the store. It's major pressure," Singh says.
"We can't do much if there is somebody suspicious in our store. Often there are two or three of them and there is only one of us."
Singh says the only way to prevent these robberies is to have an increased police presence in the area, particularly at night.
"At night time it's really dark and quiet in this area, it's easy for robbers to attack. We need police patrolling this area more often than they do, which would help a lot in scaring attackers away"
Howick Police Sergeant Brett Meale says Police have spoken with the driver of the getaway car.
"We are following some lines of enquiry to identify the two males who entered the liquor shop and stole the liquor," he says.