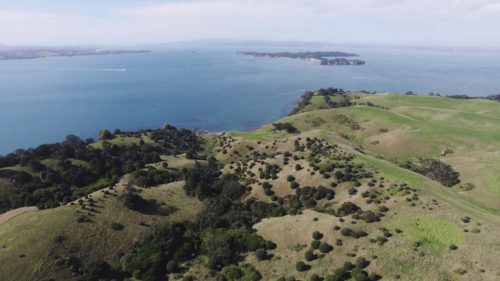 Fisheries are dwindling and water quality is dismal as pressure on the Hauraki Gulf increases.
The State of the Gulf report was released last Friday and highlights a number of issues facing the gulf with poor water quality, ecosystem decline and poor fish stocks a major concern.
Rapid population growth, overfishing and insufficient infrastructure are responsible for the gulfs poor state says chair of the Hauraki Gulf Forum John Tregidga.
"We're not catching less fish, we're not milking less cows and we're certainly not building less homes," he says.
"Pressure on the gulf is increasing, and investment and infrastructure and new policy directions are not keeping pace."
And climate change is only adding to the problem, he says.
The oceans are getting warmer and more acidic leaving the gulf vulnerable to invasive species.
Increased erosion and sediment collecting in the ocean are a result of rising sea levels and heavy storms.
Half Moon Bay local and president of the Recreational Fishing Council Keith Ingram says the problem continues because nobody wants to face up to the problem and make the hard decisions.
"Auckland Council and other councils are still condoning the continued discharge of both urban and agricultural run-off into the Hauraki Gulf."
Ingram, who has worked and fished in the gulf all his life, says chemicals and pathogens are being washed into the gulf and are responsible for destroying the habitat.
"We are having heavier storms and our storm water drains can't cope so we have lots of waste washing out into the gulf."
Sewage and road waste such as oil and heavy metals are some of many things that are being washed into our storm water systems and overflowing into the gulf.
Alongside this, rural run-off from the Hauraki plains is increasing with fertilisers and nitrates also making their way into the gulf.
"All of these things are playing a part in destroying the environment," Ingram says.
"Then to add salt to injury we have our fisheries that are struggling because their habitat is changing and they don't like it or can't survive here," he says.
The report identifies that snapper and crayfish populations are down by 70 to 80 per cent in the gulf.
"We are now seeing a very juvenile fishery of undersize fish and the commercial fishing industry is surviving on catching these undersize fish," Ingram says.
"The attitude by many is that 'it'll come right', but it's not and it's not going to unless we do something."
The Hauraki Gulf Forum is calling for central and local government, as well as iwi, to work on an action plan for improving the state of the gulf.
"We need to start making some changes today," Tregida says.
The report can be found at aucklandcouncil.govt.nz.