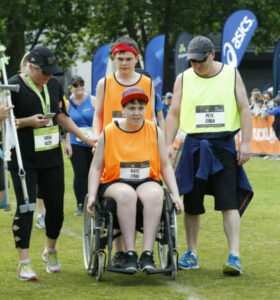 Ever since the ability to walk was temporarily taken away from her, University of Auckland student Kate Hatley – from Botany – has dreamt of running across the Harbour Bridge.
On Sunday January 23, Kate will have the chance to do just that as she takes on the John West 11km Traverse as part of the ASB Auckland Marathon on what will be an emotional day for the 19-year-old as she continues her recovery from the painful effects of Complex Regional Pain Syndrome (CRPS).
As with most cases of CRPS, Kate's condition was triggered by an injury – a skateboard accident in 2015 – that caused damage to her nervous system.
"CRPS is a disorder of the nervous system where the signals from the brain don't send to the rest of the body properly," said Kate.
"It looks different on everyone and it's also quite underdiagnosed and under-researched, so there's not a lot understood about it.
"There's a large mental component as well as a physical component for me. I had quite severe swelling in my legs and redness which was quite visible. I also had hyper-sensitivity, so I didn't wear long pants for 18 months because it just hurt too much to have anything touching my skin."
Suffering intense and extreme levels of pain, Kate could initially only walk with the aid of crutches, but her condition soon deteriorated to the point that she became wheelchair bound from February 2016 to early 2018.
After her CRPS diagnosis, Kate was treated at the Wilson Centre in Takapuna where she endured the gruelling challenge of learning to walk again in what was a multi-faceted rehabilitation programme involving psychotherapy and physical therapy.
"Learning to walk again was hard because I was in so much pain all the time," said Kate.
"The mental element of having to overcome pain goes against all your instincts. When you're in pain you don't do something, but the whole issue is my brain is sending pain signals to the rest of my body instead of regular touch or feeling signals. So, you have to rewire the brain as well and let it know it's okay."
In 2017 when Kate was 15, she completed the Auckland Marathon 5km as part of a fluro-run fundraiser organised by a friend of hers. Kate's walking ability was very limited at that time and so during the race she would wheelchair for a kilometre and then try to walk 50 metres on crutches.
"When I got over the finish line I cried, along with both my parents, my brother and my physiotherapist," said Kate.
"It was great being part of that event, I was very overwhelmed by all of the support, people who didn't even know me were just saying really encouraging things.
"It was a great atmosphere and I very much enjoyed it, and it proved to me that I was capable of more than I had anticipated. I was nervous to move between a wheelchair and crutches and be so public as well, but it was a really positive experience and really helpful for me."
From that point on, it was always in the back of Kate's mind that she wanted to compete in the Auckland Marathon again, but it was especially the two-year period where Kate was travelling back and forth between her home in Botany and the Wilson Centre on the North Shore three days a week where her desire to run across the Harbour Bridge was spawned.
"I decided to come back because funnily enough ever since I couldn't walk, I've wanted to run across the Harbour Bridge. It's been a goal of mine," said Kate.
Kate was able to start running again at the end of 2018. Her progress was incremental and at first, she could only run for about 30 seconds at a time with a 30 second break in between.
"That was quite challenging. I started running a kilometre or two at a time throughout 2019 but it hasn't really been until this year that I've really started upping the ante in terms of wanting to train," said Kate.
"I've now reached being able to do 11km so I know that I can do it, it's just a matter of doing it on the day."
Kate's parents are both active and have been big supporters during her recovery and return to running. Her dad will be competing in the John West 11km Traverse alongside Kate in January on what will be a poignant day for the family.
"I think crossing the finish line is going to be quite emotional. Even though I just had the six-year anniversary of my accident a few weeks ago. Realistically I'm only a couple of years removed of the pain and trauma of it," said Kate.
"It's not that far in the past and it was over such a long period of time that it has really stuck with me, and I'm still working through it today."
Thousands of runners will join Kate on January 23 when they take to the streets of Auckland to conquer the Harbour Bridge for the 30th anniversary of the Auckland Marathon.
For more information on the ASB Auckland Marathon visit https://aucklandmarathon.co.nz/