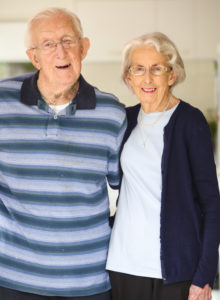 Between his wife Dawn and him they have taught for 101 years, says Kevin Peterson on the eve of his 93rd birthday.
Just a year younger than the Queen who will be celebrating her 94th birthday this week, the former principal of Cockle Bay School (1967-1984) says that he has lived on the same street in Howick for 62 years.
"So many people who pass by my house wave out to me and often you have 40-year-old ex-students saying, 'Sir do you remember me?' " says Mr Peterson.
"This morning one of our former students dropped in at our home to hand over a box of gloves, mask and sanitiser," he says.
"My wife was a teacher at Cockle Bay School for 43 years. Then she made the mistake of marrying the headmaster," he says of his wife of 60 years.
"You ask any parent, and they will tell you that she was the best teacher they've ever had.
"In 1984, I moved from Cockle Bay School and taught one-on-one Maths to students who had difficulty at St Kentigern College. I retired as the age of 75. Prior to that, I was a teacher in Samoa."
Cockle Bay School was established on September 3, 1956 with a roll of 217. The roll shot up to 796 in 1974 during the time Mr Peterson was principal.
"That's the time they built Shelly Park School and some of the children went there," he says.
To acknowledge the contribution he and his wife and made at Cockle Bay School, a new school block containing six classrooms and a multi-purpose area was named the Peterson Block.
Mr Peterson says the highlight of his life was being a teacher.
Reflecting on his childhood he says he was brought up in The Great Depression. "Those were very hard times. We had very little money and at the age of 12, I was a milk boy. I used to deliver milk before going to school. It didn't upset me because families had to work very hard during the depression and all the kids used to work."
He admits that even after 50 years, he still misses his mother who had great aspirations of her son becoming a teacher someday.
"My only regret is that I graduated as a teacher in 1947 and my mother died in 1948. It's been at the back of my mind for all these years that she didn't really get to see me as a teacher."
Another special memory is of the Fulbright scholarship awarded to him in 1972.
"We got to go to Seattle with my wife and two sons for an entire year. In 1972 they gave me a permit to go to the US for 364 days to teach in a school there. It was a fantastic experience," he says.
Talking about the change in teaching methods, he says "These days education is all online and I am a dinosaur, an old-fashioned man, reading-writing- arithmetic person, who only knows how to switch on a TV with a remote," he laughs.
"But I'm very proud of the fact that my sons have done well. One is an engineer and the other a lawyer, and my grandchildren have also done very well academically."
As for his 93rd birthday, he celebrated it with a box of chocolates that his granddaughter gifted him and a visit from Donald and Daisy Duck—organised by former student Bo Burns, a Howick businesswoman and Howick Local Board member – dressed up in costume to greet the much-loved teacher on his 93rd birthday.