National Toastmasters organisation which included members from the Howick, Pakuranga, and Elim chapter recently attained a Guinness World Record.
171 Toastmasters gave 381 speeches one after the other, for 127 hours 31 minutes 43 seconds, this was attained by a nonstop effort over a week of 24 hour days of speaking. Some people spoke for 5 minutes and others spoke for over an hour.
Local representation came from Deborah Gleiser, Greg Longstaff, and Mari Finn of Howick TM Club,  Christine Alcott and Alun Chisholm of Pakuranga TM Club, and Greg Barnes and Kulesh De Silva of Elim TM Club.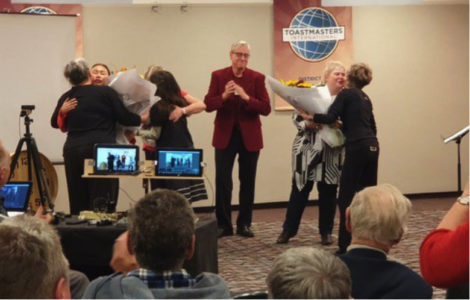 Alun Chisholm put in a massive effort to get the challenge over the line "I was there mostly at night 10pm through 6 am, maybe for 68 hours of the 127 ½" and added "living nearby was a help".
The event was a resounding success for Toastmasters and a showcase for an organisation who aim to help people improve their public speaking and gain confidence.
Toastmasters come from all sections of society, from every country, whether they be students, lawyers, business owners, politicians, tradesmen, job seekers and everyone wanting to see improvement.