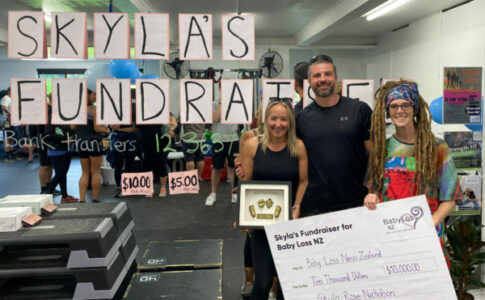 By James Ball, Third-year AUT University journalism student
A grieving Howick couple have raised more than $11,000 for Baby Loss NZ – a charity supporting families affected by the loss of a baby – at a Mother's Day fundraiser.
Personal trainers Natasha Jones and Daniel Nicholson lost their daughter Skyla Rose four days after her birth and were inspired to host the fundraiser after witnessing Baby Loss NZ's dedication despite limited financial resources.
"Initially we were going to donate, and then we thought it would be really nice to do something a little bit more," says Nicholson.
The event was held at Peak for Life fitness studio in Sunnyhills and attracted more than 100 participants who took part in a 5km or 10km run or walk along the Pakuranga Rotary Walkway.
For Jones, planning the fundraiser proved to be a welcome distraction.
"I wanted this fundraiser to raise awareness of this amazing organisation Baby Loss NZ, so I put my heart and soul into arranging this event as best as I could," she says.
Jones created flyers to promote the event, arranged raffle prizes and organised silent auctions which included a pair of gloves signed by MMA fighter Israel Adesanya.
Nicholson was "overwhelmed" by the massive support from the community and says that the success eclipsed their expectations.
"Having all those people and getting everyone there and involved on the day was really special for us.
"Knowing now that we're going to be able to do the same for a lot of other families, it's a nice heart-warming feeling."
Sarah Numan founded Baby Loss NZ after losing four of her own babies and having no tangible memories to remember them by.
"That feeling of not having anything to hold is what started this charity."
Baby Loss NZ offers a number of free services including hand and foot casting, photography sessions and the preservation of baby items to provide comfort.
Numan says that the funds raised would provide 164 families with a Care Box.
"That just absolutely blew my mind. We're currently meeting around about 250 babies a year, so to get that many families, certainly with the Care Box, is massive."
Jones and Nicholson are establishing the fundraiser as an annual event, coinciding with Skyla's birthday on February 4.
If you wish to contribute, you can make a donation to Baby Loss NZ through their website.