By Sarah Ellis
Gabby Wright took to the netball courts at on Saturday to umpire her first competition game.
This in itself may not be that extraordinary, but the fact that the Pakuranga College student did this from a wheelchair certainly is.
Gabby was a little nervous when she arrived at the Howick and Pakuranga Netball Courts bright and early and a little bit coy about the attention she was receiving at first.
But she was well-supported by her mum and dad Vanessa and Clinton and younger sister Felicity who said they were extremely proud of her.
Family, friends and members of other local clubs were also on the sideline to show their support and encouragement and all commented on her big smile throughout the game along with her ever-growing confidence and presence on the court.
Gabby was able to manoeuvre around the court and negotiate the tight angels by using a special Melrose sports wheelchair.
Funding for this was provided to Gabby and her family by both the Halberg Disability Sport Foundation and the Wilson Home Trusts.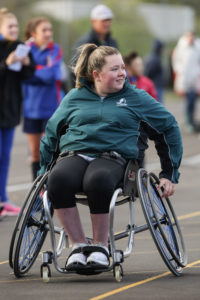 "Gabby wouldn't be able to do this without their help," says her mum.
She also uses the wheelchair to play her other sporting passion, tennis, and her goal is to compete in the next Special Olympics in 2024.
The Howick Netball Club, of which Gabby is a member, think she's probably the first New Zealand wheelchair umpire, perhaps even worldwide.