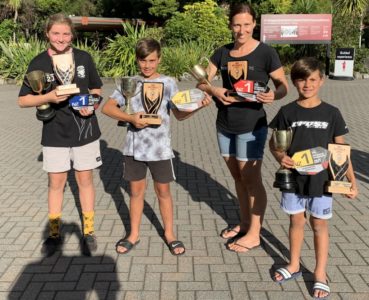 Mountain Raiders BMX Club based at Lloyd Elsmore Park are celebrating four new national champions following a successful outing this month.
A total of 43 Mountain Raiders club members headed down to Rotorua to compete in the pinnacle event of New Zealand's BMX season, the national championships.
They, and around 500 others, raced over two days.
"Incredibly, we came home with four new national champions," said the club's Kimberley Hunter.
Madeleine Hunter (2020 Howick Local Board Junior Sportswoman of the Year) won her third national title in a row.
"Then we had three members of one family all bring home the NZ1 ranking – Steph Hoek and her two sons Lucas Matene and Jai Matene," said Hunter.
"It's a pretty remarkable achievement for them as individuals and for us as a club."
Hunter is 11 and she won the 12 year girls class. She's in year 7 at Baradene College.
Hoek won the 35+ female cruiser class while Jai, 7, won the 8 year boys class.
He is in year 3 at Pakuranga Heights School. Lucas, 11, won the 11 year boys class. He is in year 7 at Farm Cove Intermediate.