The Times has had an avalanche of responses to our story on a mother with a newborn falling on Whitford Road in the Times (January 30).
We asked you for your stories on damaged pavements around east Auckland.
Shirley Eyre suffered horrific injuries after falling on Millhouse Drive, Northpark, 18 months ago. She has impaired vision and didn't seem a raised, cracked portion of concrete while on an evening walk home.
She had to have part of her nose re-attached. She also suffered smashed teeth and a damaged jaw. She says she has had to "struggle with pain and (also the) cost of this, as I've been told it's my age (insurance won't cover on-going costs), and (she's received) no support for the costs at all from the fall."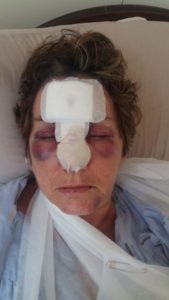 Others sent in pictures of cracked or crumbling footpaths in their neighborhoods.
One reader wasn't happy with the standard of repair job done by council contractor Fulton Hogan, and questioned the materials used.
"Fulton Hogan came around to our cul-de-sac, resurfaced the road and repaired selected portions of the pavement just before Christmas, Both jobs are rubbish. The road surface is worse than the original and is already breaking up with loose asphalt all over the place. Sections of the new pavement are already cracking because of the sub-standard concrete used."
He added, "To add insult to injury, they back-filled around the new pavement sections with the gravel/stones they had excavated instead of using new topsoil. For this reason, grass has not grown in many places and when we mow the lawns, small stones fly everywhere.
"They did not replace all the marked sections of pavement, thank goodness, or the street could have been worse.
The contractors also damaged the existing curbing and tried to repair/cover it using their sub-standard concrete."
Another reader drew attention to the "dire state" of the footpath on Howe Street between Wellington Street to Ridge Road, in Howick and accused council of inactivity and wasting taxpayers' money on a survey from which no repair work was forthcoming.
"Over two years ago I was delighted to see that all damaged areas had been marked with white spray paint at the edges of each cracked and broken segment. Damage was evident the length of the street. I presumed it was council who arranged the survey. Two years have passed, most of the paint has been worn away and nothing has changed. Taxpayers' money paid for the wasted work," she said.
Even the footpaths in Lloyd Elsmore Park seem to be in need of attention, as a reader writes:
"The ones (paths) running up from the swimming pool end towards the Homestead are, frankly, unsafe, so eroded are they…I've even heard one small child tell his father, "I'm not riding up there; it's too rough."     For people on foot, they are singularly hazardous, especially in winter and for the elderly."
The Times approached Auckland Council for comment and when asked if council makes regular inspections of footpaths to determine what needs remedial work, Mark Hannan, media relations manager at Auckland Transport says, "Yes – regular condition surveys and inspections are done which we use to plan maintenance and renewal programmes."
When quizzed on the times taken from receiving a complaint to actioning remedial works, Hannan says "programmes are driven by the condition of the footpath, not by injury or complaint".
The Times also asked if a person is injured as a result of a damaged footpath, does this 'speed up' the repair process, Hannan advises "the condition of the footpath drives the timing of works".
Auckland Councils' budget allocation for maintaining footpaths for 2020 is $19.3 million for footpath replacement this year and has a target of 60km of footpath to be replaced or resurfaced, says Hannan.
If people spot issues with pavements in their area, Hannan advises them to contact the council call centre on 301 0101 or complete the online feedback form 'Report a problem' https://at.govt.nz/about-us/contact-us/report-a-problem/.