The Howick-based spokesperson for the Erebus National Memorial proposed for a Parnell park is hopeful the plan gets the go-ahead next week.
Rev Dr. Richard Waugh, who is also an aviation chaplain and historian, is keenly awaiting a decision by the Waitemata Local Board next Tuesday.
It follows a lengthy advocacy campaign for a national memorial which began in early 2016 to commemorate those who died on November 28, 1979 when their plane flew into Mt Erebus. It is New Zealand's worst peacetime accident and still the worst air accident in the Southern Hemisphere.
The National Erebus Memorial is proposed to be erected at Dove-Meyer Robinson Park (Parnell Rose Gardens). The problem is a group of Parnell residents oppose the plan.
The Parnell group is against the construction of a memorial to the 257 people who died when Air New Zealand flight 901 crashed into Erebus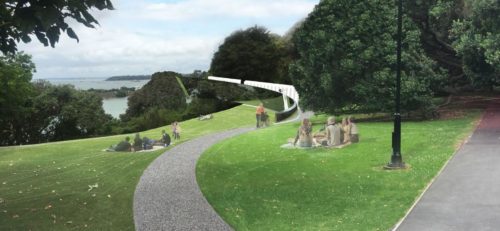 Radio NZ reported that two residents – one whose husband lost his father in the crash – say the park is too small and the memorial too big. "They say earthworks will damage the roots of a nearby pohutukawa tree whose swooping branches local children love to climb. They say the lawn the structure is proposed for is a picnic spot, a happy place, a destination for canoodling young lovers, for eating fish and chips and drinking a glass of wine, for kids to play with a ball. The memorial will ruin all that, they say," RNZ reported.
But Rev Waugh said that, from the outset, they had always encountered positive support for the Erebus National Memorial.
"In fact it was frequently mentioned by others that such a memorial was long overdue and that Erebus families have been pastorally neglected for many years," he said.
"While there are smaller memorials at various sites for the unidentified, people who were never found, and crew, there has never been any significant public place where all 257 names are displayed, where families can gather to remember and have special times of prayer and reflection – and where our nation can appropriately commemorate the tragedy.
"Parnell is one of New Zealand's most historic and beautiful suburbs. Residents have the privilege of embracing the Erebus families with the Erebus National Memorial, on behalf of the whole country."
Dove-Meyer Park is ideal, he said, in fulfilling what the families asked for; a central accessible site, with historical – including aviation – relevance, a beautifully creative designed memorial – and not placed in a cemetery.
"I would say to the people of Parnell, don't be put off by negative nay-sayers; instead you are privileged to host have one of New Zealand's very special memorials."
Visit www.erebusnationalmemoral.nz