The fire which gutted most of a Somerville Road home last week was allegedly caused by a disgruntled 24-year-old flatmate who torched his own bedroom.
And the home, valued recently at around $1.6 million, is not in any way connected to the production of the drug P (methamphetamine), another occupant told the Times.
A woman – who had a room at the house and asked not to be named – said the culprit was one of six renting a room at the plush home.
The alleged arsonist currently has name suppression.
The head tenant, who is understood to be around retirement age, is believed to be Kevin Patterson, an apparent former teacher at Howick College.
The home's owner – who also asked for anonymity – said the house had been rented out for six years to Kevin with no problems – until this issue with the alleged arsonist. Kevin had tried to eject the young man. "Kevin is respectable. He has history with the school and is now a professional painter," the owner said.
The issue with the alleged arsonist was the culmination of several days of pressure to pay the rent.
The woman said Kevin tried to throw "the nutcase" out the week before the fire. On the day he was kicked out, the door was locked behind him.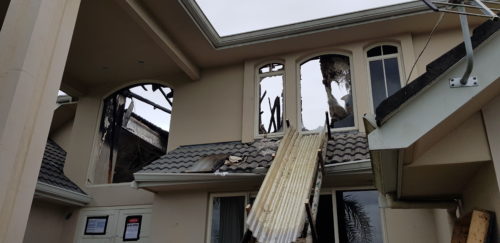 The woman said: "He was locked out. I heard him say 'Fire! Get out," she said.
"He was crazy. The fire started in his own room (located upstairs). I'm really shocked.
"People said he was running over cars."
She reiterated that the house was not dealing or making illicit drugs. "It's not a P house – it never was. it's peaceful and quiet. There are never any parties here."
Police charged the man on Monday afternoon and he has appeared in the Manukau District Court. He is to appear again later this month. The maximum penalty for the offence is 14 years' jail.
Part of Somerville Road was closed off from 4pm on Monday as fire fighters worked for several hours to get the blaze under control.