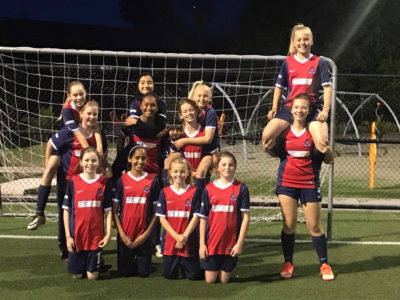 The Fencibles United AFC 11th grade girls know how to mix fun with hard work.
Enemies with their opponents on the field but best friends once the whistle blows, the girls have the balance down pat.
Most of the girls have been playing football for five or six years and there seems to be no end to their talent.
Stewart Taylor has coached the majority of the girls since they were five years old and says the girls have dominated their age group grade for a number of years.
Watching them practice their goal scoring at William Green Domain, their determination and commitment to the game is clear – and it's paying off too.
After the girls won the Auckland Football Federation Championship for 10th grade so convincingly last year they decided to skip 11th grade and play them up a grade this season in 12th grade meaning the 10 and 11 year old girls are playing against 12 and 13 year olds –and playing well at that.
The girls are currently training for their end of season trip to a national football tournament in Taupo on October 13 and 14 and Taylor says he has a feeling the girls will be one of the top teams, if not the top.
The bubbly team tells me they enjoy the friendships made through the game and the opportunity to get fit while having fun.
But what's the best part? "Winning!"