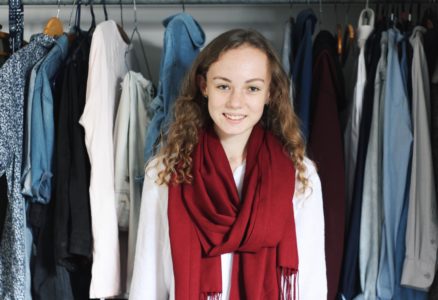 Fashion Revolution Week kicks off this Monday and year 13 student Lauren Blakeley wants the world to know what the fuss is all about.
The Elim Christian College student has spent the past term working on a research project concerning the social and environmental impacts of fast fashion – a term used by fashion retailers to express the quick movement of clothing items from the runway to the shops.
Where items of clothing used to arrive fresh in store to remain for a whole season, they now remain in style for merely a few weeks before new clothes arrive.
That's the inspiration behind Fashion Revolution – a global movement calling for greater transparency, sustainability and ethics in the fashion industry, and for a radical change in the way clothes are sourced, produced and purchased.
"Few people even know the meaning of fast fashion. We contribute to the issue by even not knowing the truth of the industry," said Lauren.
"I feel that Emma Watson put it perfectly: 'You want what you're wearing to say something about you, about who you are'. I don't want to be wearing clothes that are causing environmental harm or forcing someone to work in inhumane conditions."
The #whomademyclothes campaign as part of Fashion Revolution Week starting April 24, marking the fourth anniversary of the Rana Plaza factory collapse, where 1,138 people were killed in 2013.
"I'm mind-blown by what I've discovered," she said. "Machines aren't just making our clothes – its people… but it's also not limited to that. It's damaging the world."
She's talking about places like Xintang in China – a village also known as Jean Town – where author Claire Press described how the rivers run blue, the air stinks and the dust in the streets is blue.
"We don't see that side of fashion," said Lauren. "We don't see the lives it's impacting or the places it's damaging – we just see the nice cost on our end."
Now, the 17-year-old is calling for consumers to jump on board the revolution by supporting outlets that back fashion sustainability.
"It's not about telling all our favourite shops to close their doors, or telling them 'you're ruining the world', but it's about encouraging them to do better, and up their standards.
"I'm not a perfect example of an ethical wardrobe but I've taken on the idea of buy less and buy better. For example, opshopping is a great way to know your money is going to a worthy cause."
She suggests consumers can make use of popular app 'Good on You' available for iOs and Android which provides sustainability ratings for various fashion stores.
Fashion Revolution Week runs from April 24-30.