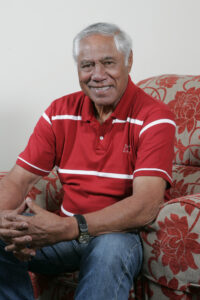 Waka Nathan's daughters Alana, Claudine and Janine have paid tribute to their father who died last week.
"We adored Dad and the tributes flowing in from all over the country talk about him with such warmth and admiration and we are overwhelmed," they said.
"Gentle, kind, authentic and humble are repeated over and over again.  A friend of mine summed it up perfectly  – 'We sit with an incredible ache in the knowledge that a lesser man wouldn't leave such a gaping hole and the intensity of our loss is proportionate to the intensity of joy he brought us.'
"People talk about what it means to be a good man.  Dad was a good man and he was unique.
"I cannot put into words how much we love him."
Waka Joseph Nathan
Birthplace: Auckland July 8, 1940 – Passed away Auckland September 24, 2021 (81)
Iwi: Ngāpuhi, Te Roroa, Tainui, Ngāti Kahungunu
Marae: Taita (Dargaville) Kaitumutumu (Huntly)
ALL BLACK #627
BIO
Waka Nathan was born to Samuel Taia Nathan and Irene Huakore (nee Randall).
His siblings include: Papatuanuku (Papa) Buddy QSM, Potahirangiua (Rangi), George (Whangai), Henry (Whangai), Lillian, Cowley, June, and Mary.
Waka's mother is a half-sister to former All Black Captain Taine Randell's grandfather.
Waka was educated at Mangere Central Primary School and Otahuhu College.
On leaving school, Waka worked at Hellabys, Westfield Freezing Works and Lion Breweries.
He then took up ownership of the Manukau Tavern. After selling the hotel he worked as a salesman for Combined Insurance, Waka then established Waka Nathan Meats in Mangere Bridge before retiring in 2005.
Waka is married to Janis (nee Horton). They have three daughters, Alana, Claudine and Janine.
RUGBY:
As a primary school child, Waka first played rugby for Mangere Central. He went on to play for Otahuhu College before moving on to the Otahuhu Rugby Club.
It was while at Otahuhu College playing for the 1st XV that Waka came to prominence along with his long-time friend Mackie Herewini when they played an outstanding match for the college against Seddon Tech during a curtain raiser to the 1956 Springboks versus All Blacks at Eden Park.
In 1959, Waka made his debut for Auckland at the age of 19. A year later, he was selected for the Maori All Blacks tour of the Pacific where he came under the guidance of mentors Albie Pryor and Maunga Emery.
Waka is known in Ranfurly Shield folklore for the dramatic last minute try in 1960 against Canterbury following a "wipers kick" from his club mate Mackie Herewini to retain the Ranfurly Shield.
A key member of the Auckland team during their record breaking 1959-63 Ranfurly Shield tenure, Waka also appeared for the Maori All Blacks again in 1960-61.
His All Black debut came in 1962 with the All Black tour of Australia where he appeared in both tests, and in all three when the Wallabies returned the visit later that season.
Early in 1963 he played in both tests against England and was selected for 1963-64 British tour. After showing good form and playing the tests against Ireland and Wales, he broke his jaw against Llanelli and was restricted to 15 tour matches. Despite this injury he scored 11 tries – the third highest total on the tour.
A leg injury kept him out of rugby during the 1964 season and continued to plague him the following year, forcing him to withdraw from the team selected to play the first test against the 1965 Springboks. However, he recovered to play for the Maori All Blacks against the tourists. Fully fit, he appeared in the whole series against the 1966 Lions, scoring two tries in the third test.
Waka toured Britain again after the 1967 Jubilee Test against Australia but suffered another broken jaw. He played only six times, missing the test matches. He recovered in time to play in the prestigious end of tour match against the Barbarians.
In his 14 test matches for the All Blacks, Waka, sometimes referred to as "the Black Panther" (originated in a French newspaper which called him La Panthere Noire after the All Blacks played France in 1963. The paper's rugby reporter was said to be in awe of how Nathan could stalk the opposition like a panther), Waka never played in a losing side. He scored 23 tries for the All Blacks and was described by Colin Meads as, "that most virile runner with the ball in hand, great at exerting pressure close to the forwards".
Following his retirement from rugby in 1969, Waka went on to have a distinguished career in rugby administration. He also took up an interest in horse racing and owned a horse called "Black Panther" which was his nickname as an All Black. Waka lived at Bruce McLaren Retirement Village with his wife Janis, before moving into the Dementia Care Unit at the village in 2017.
As testament to the mana and prestige he maintained with NZ rugby, Waka was given the honour of running on to the field to start proceedings before the inaugural Rugby World Cup in 1987 and in 2018 he was awarded the Steinlager Salver Award, NZR's highest recognition for services to rugby.
ACHIEVEMENTS
Auckland East Roller Mills 1954
Otahuhu College 1st XV 1956, 57
Otahuhu Rugby Club Seniors 1959 – 1969
Auckland 1959,60,61,62,63,65,66,67
North Island 1960,61,63,65,66,67
All Black Trials 1961,62,63,65,67
NZ XV 1960, 66
Rest OF NZ 1960
Māori All Blacks 1959,60, 61, 65, 66
All Blacks 1962, 63,64,66,67
NZ Maori All Blacks selector 1971-1977
NZ Maori All Blacks manager to Wales 1982
HONOURS
Tom French Cup 1962, 1966
NZ Maori selector 1971-77
NZ Rugby Union Councillor 1980, 81, 82
Manager of the Maori All Blacks tour to Wales 1982
President of the Auckland RFU 2003-04.
Member Barbarians Rugby Club
Waka Nathan Challenge Cup (Auckland pre-season rugby competition)
Kaumatua & Trustee, Aotearoa Māori Sports Awards
Steinlager Salver Award, NZR's highest recognition for services to rugby 2018