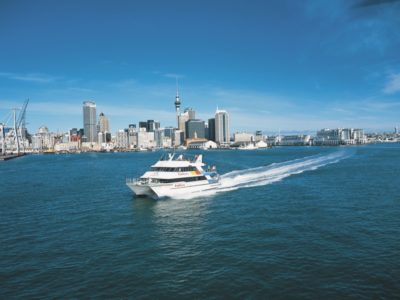 Tourism operator Explore Group will take over operations of the Tiritiri Matangi Island ferry from Fullers.
Explore, in partnership with local iwi Ngāi Tai ki Tāmaki, began operations of the ferry service on April 1 sailing from Auckland via Gulf Harbour to Tiritiri Matangi weekly, Wednesday through to Sunday.
William Goodfellow, Explore's managing director, said operating the Tiritiri Matangi service is the next phase in Explore Group's expansion following the launch of the Tikapa Moana Whale & Dolphin Wildlife Cruise and Explore Motutapu with Ngāi Tai in December last year.
"Taking over the Tiritiri Matangi ferry service is a natural next step for the company as it will complement our growing range of tourism services available for people to experience across Tikapa Moana – the Hauraki Gulf."
Goodfellow said the tourism industry has been hit hard by the pandemic but the company is optimistic that when borders open and international tourists return, it will be ready to deliver a host of new and exciting experiences that showcase Tikapa Moana – the Hauraki Gulf.
"Tiritiri Matangi Island is a nature enthusiasts haven with an abundance of manu [winged creatures] and birdlife, beaches and native forests to explore and is an important conservation project in Tikapa Moana – the Hauraki Gulf. It's the perfect place for outdoor adventure experiences for both locals and visitors to New Zealand."
He said Explore Group will work closely with Ngāi Tai ki Tāmaki to better reflect the relationship between tangata whenua and Tiritiri Matangi.
Ngāi Tai ki Tāmaki deputy chair Billy Brow, said the partnership aligns with the environmental, cultural, social and commercial projects being undertaken to revitalise the manawa [heart] of Ngāi Tai and improve the wellbeing of tribal members.
"This opportunity has eventuated after 20 years of collaboration and we are thrilled to be continuing to work alongside Explore to enhance the experience of Tikapa Moana – the Hauraki Gulf for visitors."
Ngāi Tai are original inhabitants and iwi of Tāmaki Makaurau – Auckland. The iwi is based in Maraetai, the Manukau, Waitematā and Tikapa Moana, and exercises mana whenua and mana moana interests across Auckland.
Goodfellow said Explore supports many conservation initiatives and the company is committed to preserving the areas where it operates and supporting projects being driven by iwi in Auckland.
"As well as offering a ferry service to the Island, we will take a fully integrated approach to delivering conservation and 'hands-on' experiences," he said.
The ferry will operate from Wednesday through to Sunday and will travel from Auckland via Gulf Harbour to Tiritiri Matangi Island.