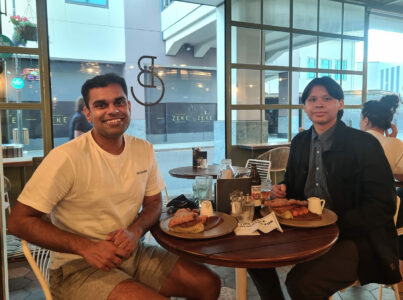 A young Botany Downs Secondary College (BDSC) student's life has been transformed by a BDSC old boy and Big Buddy mentor.
Big Buddy provides father figures for boys without a father in their lives.
Ethan Andrews, 17, was a quiet, reserved 14-year-old. After being paired through the Big Buddy charity with an "amazing friend and supporter", he is now confident and motivated and has just scored a First Foundation scholarship with $30,000.
The scholarship is for those who are the first in their family to go to university. Along with the financial support, an internship, he will have a professional mentor who will support him next year, his last year of high school, and throughout university.
Andrews will be working with Auckland Transport over the next four years.
A big part of Andrews gaining the scholarship was the support of his Big Buddy Sharvan Pethe. Pethe took the time to sit with Andrews and they worked through the application form through the nine-month application process.
At this year's End of Year Assembly, Andrews also achieved five top student certificates in subjects including maths, economics, accounting, English and business studies as well as the Whanau Distinction Award for the top student in his house.
Andrews and Pethe were matched in July, 2019. They would meet every Sunday at 9am and they decide between them what they wanted to do.
Even during lockdown they would catch up on Sundays via video calls.  Among activities they do together are playing hockey, mini golf, going to a café for brunch as well as walking around the parks and walking tracks
His mum Jess says in 2019 her son was a shy, quiet and reserved 14-year-old.  Before the match he said "I'm okay mum, I can look after myself".
"At the time Ethan had no male role model that would show up for him on a regular basis. He stopped going out on the weekends when he was 11-years-old and, other than going to school. he stayed at home, his mum said.
"There comes a point in time when I knew that I had given everything that I could do for my son. From a mother and nurturing perspective however, I knew he was missing the interaction and male role model aspect.
"I knew Sharvan was perfect for Ethan because they had so much in common.  They went to the same school, they enjoy similar things like business studies and Sharvan was respectful and caring-natured.
"Now, when Ethan meets people, in particular men, he comes across as a confident, self-motivated, conscientious and respectful young man – all the same attributes I see in Sharvan and that's what makes an amazing Big Buddy."
When Andrews had an amazing business idea, Pethe listened.  Pethe is a manager in Strategy and Planning at PWC.
"Sharvan encouraged Ethan to play hockey at school and even helped with Ethan's curriculum vitae to get a job," said Mum.
Through Sharvan's contacts Ethan got his first job at 15, which is the same first job Sharvan had at his age too.  Two years on and Ethan is enjoying the job.
Ethan is currently going for his restricted license and Sharvan takes Ethan out on driving lessons.
It looks like the positive cycle will continue.
Just recently Ethan said "I want to pay it forward mum and help mentor young ones just like Sharvan has done for me."