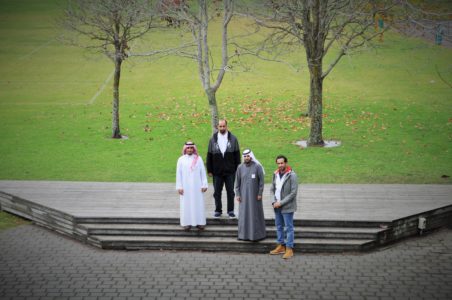 Pakuranga College is hosting a group of Saudi Arabian educators, who are here to learn about world class New Zealand schools.
Two principals along with two English language teachers are part of a contingent of 71 educators and have travelled with their families (more than 200 family members) to Auckland as part of the University of Auckland Khebrat School Immersion Project.
Under the Khebrat (Arabic word for experience) project, Saudi Arabian educators are immersed in 21 schools across the Auckland region. Arriving in mid-January, their nine-month programme began at The University of Auckland English Language Academy and now the project is being led collaboratively by several professional development organisations within the university.
The programme is funded by the Kingdom of Saudi Arabia's Ministry of Education.
Visiting English language teacher Ali Alwadai says their government has spent more than $40,000 on each teacher and paid an extra allowance to accommodate their families.
Apart from minor hiccups like getting used to driving on the other side of the road, and arriving late on the first day of school for the special powhiri hosted in their honour at Pakuranga College, he says it's been a huge learning experience.
Ali observes that teachers in this country have the freedom "to choose the type of texts in curriculum and that there is a strong partnership between the teachers and the principal".
"There are 139 teachers at Pakuranga College and it will probably take me an entire year to meet all of them," he laughs.
"It's fantastic that the schools are future-focussed here."
Bader Alslooli, principal of King Fahed Secondary School, says that out of the 1200 educators that were given the opportunity to be part of the programme in nine countries, principals of schools were given a choice of just two countries – New Zealand and Canada.
While Bader found it a bit frustrating to find an apartment in the city, he is now focussing on the Capstone Project.
"It's like the final piece of the puzzle where we think critically to come up with a project idea on how we can contribute to our education system."
Talking about the difference in culture he says, "We come from the other side of the world and our culture is very different. We've attended workshops at the University of Auckland English Language Academy and have learnt different Kiwi expressions as well as had reflective sessions on things that are culturally appropriate. For example, you shouldn't point at people when you are talking. It is considered rude here," he shares.
English language teacher, Ahmed Jabbari from AlDhabya Secondary School had a lot to cope with as  he arrived on January 18 in Auckland and his wife gave birth to a "Kiwi boy Yahya" on February 2. "We were quite worried about her giving birth in a foreign country but all's well," he says. Ahmed is impressed by the focus on students. "Their voices are heard and they play a great role in deciding on their learning paths. They have a vision of their future."
Principal of Jubai Bin Muteem High School, Adel Alahmari had a bit of an incident when a not-so-happy seagull attacked the expensive drone he'd bought to capture the natural beauty of New Zealand.
He says the immersion programme is a valuable learning experience. "In Saudi Arabia the Ministry of Education makes most of the decisions. This programme has given us a lot of ideas on how we can make a positive contribution to our education system."