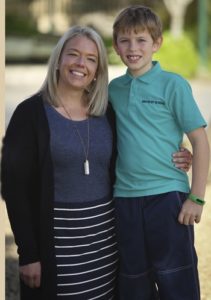 Rebecca Rose, deputy principal of Brookby School was pleasantly surprised when she was informed she'd won the Auckland Region Favourite Teacher Award.
Primary school student Miles Wilson nominated her for the award saying ever since he's moved into Room 5, he doesn't like to miss a since day at school, "because then I miss Mrs Rose.
The nomination went through a panel of people that included New Zealand celebrities as well as educators who selected Mrs Rose as the overall regional winner.
The Favourite Teacher Award was open to any sector in education from kindergarten right through to university.
Students the length and breadth of the country were asked to nominate their favourite teacher.
"Learning with Mrs Rose is all about having fun and that's why she is everyone's favourite teacher," says nine-year-old Miles.
A former resident of Howick, Mrs Rose who studied at Owairoa Primary School, says she still fondly remembers one of the teachers, Mrs Bull, who inspired her.
The technology teacher is known to respond to the kids' emails 24/7. "They open up and talk to me about any problems they may have or something they are finding hard. As I do with their parents, I send an email out every week to the parents/caregivers in my class that goes over what we do each week in class and reminders that are coming up.
"I also put up videos and photos every week of the kids doing something fun in the class – tennis this week, it was speeches last week, plays, all sorts onto an app called Seesaw where the parents are able to receive a notification and see what their kids are doing then and there.
"It's so great to be able to have a really strong home-school partnership," says the award- winning teacher who has taught for 12 years out of which six years have been at Brookby School.
As for her biggest reward, she says: "The glimmer in their eyes when you see that they have 'got it' and the sense of pride in their learning when they make a breakthrough in their learning is the biggest reward.
"There has not been a day in my career where I haven't smiled or laughed with the kids," she says.
"The kids keep you young. The energy they bring into your life is contagious and I can honestly say that I love every single day in my job.  Brookby is such a special school, the community is so welcoming and friendly.
"We have had times where a family has been in hardship and the rest of the community rallies together and helps without batting an eyelid.  I feel like the lucky one being able to work in that environment every day, blessed beyond words."