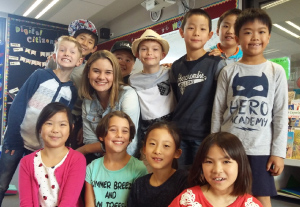 By Nathan Morton
Pakuranga College Student
Elim Junior Campus teacher Emily Bagrie is determined to teach kids how to make the best of technology in their learning, and now, she's being recognised for it by tech giant Apple.
The 29-year-old teacher has just been awarded the Apple Distinguished Educator (ADE) award for her use of Apple products in class and invited to join the prestigious Apple Distinguished Educators (ADE) class of 2017.
The opportunity includes the chance to collaborate with more than 2,500 educators around the globe to improve Apple-based learning in classrooms.
"I'm passionate about preparing kids for the future and preparing them to be the rulers of their technology, using it as a tool instead of technology ruling them," she said. "It's given me the opportunity to grow as a teacher, and that's because of Elim."
Mrs Bagrie started teaching at Elim in 2012 and was previously a student at the College, where she held the role of head girl in 2005.
Elim Christian College principal Murray Burton said seeing students return as teachers is one of his favourite parts about the job.
"It's what I like best. There's nothing better than having students return and want to give back to the school they completed their education in.
"It's an amazing message to people that we are consistent and stand the test of time… we obviously appoint the best person for the job, [but] it's an incredible vote of confidence for our culture to see students return wanting to teach, and Emily is such a great example of that."