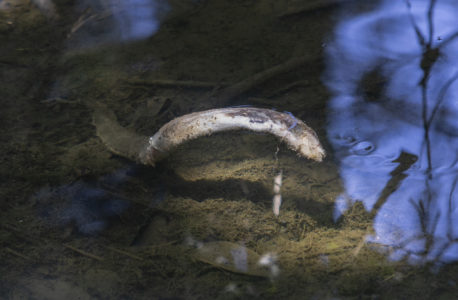 An investigation is under way into what led to the deaths of dozens of eels in an east Auckland waterway.
Burswood resident Paul Taylor posted photos on social media on December 14 of what he says were more than 30 dead eels in the upper estuary in Huntington Park, near Ti Rakau Drive.
He reported the find to Auckland Council, which is working to identify what caused the eels' death.
"Local children feed the eels," Taylor told the Times.
"I was told of the incident from neighbours who had first seen them and then went up to investigate."
The council updated him that staff had visited the site and taken some eels away for analysis.
He says he's pleased with how quickly the council responded to the situation.
Photos taken by the Times of the estuary show multiple dead eels of different lengths, as well as a fish, floating near the water's surface.
One image shows a dead eel surrounded by rubbish including what appears to be about 20 small pieces of plastic.
Council team leader compliance response south Dirk Timp says the council's compliance team visited the site to investigate after receiving a report of dead eels in the waterway.
"On arrival we found the waterway was running clear and there were no obvious signs the water had been polluted," he says.
"Officers tested the pH levels of the water and found it to be within the normal range.
"At this stage it is not clear what caused the eels to die, however further testing will continue further upstream and downstream."
According to the Department of Conservation (DoC), there are two main types of eel in New Zealand, the shortfin and longfin. Longfin eels can be found throughout the country.
"There are fewer eels today because of the loss of wetlands and historical commercial fishing practice," DoC says.
"Currently the commercial eel fishery is managed by the Ministry for Primary Industries under the quota management system."
Longfin eels live mainly in rivers and inland lakes but can be found in almost all types of waters, usually well inland from the coast, according to DoC.
People with information on what may have caused the death of dozens of eels in a waterway in Huntington Park can phone Auckland Council on 301 0101 and give the reference number 8110363397.
The Department of Conservation has been contacted for comment.