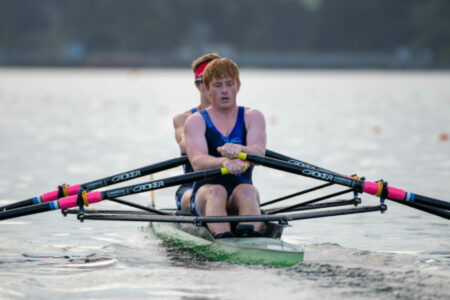 Rower James Dimock, 16, of Macleans College, and Josh Yeoman, 16, St Peter's School, Cambridge, have taken out the Under-18 double sculls in the North v South Rowing Regatta by 1.5 boat lengths at Lake Karapiro.
Dimock was one of the four scullers selected for the U18 North Island Rowing Team.
On Wednesday [April 19], Dimock and Yeoman won the event in style. They raced the two best rowers from the South Island and beat them by 5 seconds.
This makes this combination the fastest under 18 double scull rowers in NZ.
Dimock was selected as one of the fastest U18 rowers in the North Island double trials.
This is Dimock's third win at national level. In 2022, Dimock, with his school and club double scull partner Logan Turrall, won the National Championships U16 double scull, and weeks later also won the U16 Double Scull at the prestigious Maadi Cup 2022.
"I live and breathe rowing and I'm so happy to have had the privilege of being selected for the U18 North Island Rowing Team," said Dimock.
"Next year I hope to try for the North Island U19 rowing team."
Dimock's parents David Dimock and Hollie O'Neill-McLean said their son has again risen to national level through his exceptional discipline and positive attitude.
"We take the boys to rowing training three to four times a week at 5:30am and have never had to wake James up as he is so eager to get on the water with his teammates," they said.
"He also trains up to right times a week on the erg (rowing machine) or weight training at Howick's local gym. His hard work and determination to achieve his rowing goals never cease to amaze us.
"We have also witnessed James and Logan Turrall [also from Macleans College] after a loss bouncing back immediately, discussing their strategy for improvement. These are qualities of fine sportsmanship and we couldn't be more proud of our son."
O'Neill-McLean said the gold medals at national level are "a bonus" but what she has enjoyed most about his rowing with Macleans College are the friendships he has established within the squad and the mentoring of older to younger students which has been empowering for all.
"We are fortunate that Macleans College offer their school rowing programme," she said.
"The high calibre coaches, schoolteachers and parent volunteers who all make rowing at a young age possible are to be commended.
"Macleans College offers a learn-to-row programme to novices each year in August/September. This is how James started out three seasons ago," O'Neill-McLean said.
"I strongly encourage anyone even slightly interested to give rowing a go, a physically demanding sport that can have powerful intrinsic benefits for our community of young people."
Meanwhile, Dimock and Turrall teamed with Saint Peters boys Josh Yeoman and Harry McClintock in the North v South boys' U18 Coxed Quad Sculls losing by a seat. Turrall was beaten in his Under 18 single race.