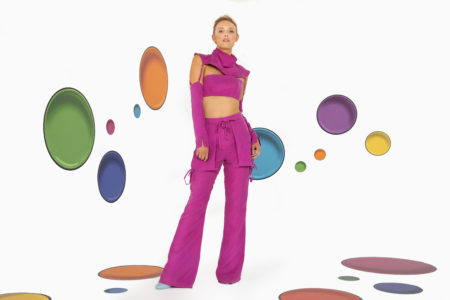 Emerging fashion talent Michael Day of Pakuranga has won the 2020 winner's prize for Resene Colour of Fashion.
Day (Ngāti Kuri) heard the news as the Whitecliffe Fashion Show tonight. Auckland designs appeared on the runway at the Auckland Town Hall, led by the winner.
Day was presented with a prize gifted by Resene – a sewing machine, pair of engraved shears and fabric vouchers, with a total value of $1000.
Reflecting on judging day, Day said: "I was full of good nerves. Nerves keep you pushing. I was looking forward to getting some feedback from the judges."
The young designer takes military-style elements like cargo pockets and silhouettes from clothes worn by revolutionaries into his designs, details that were evident in the fashion graduate's winning design.
Beyond black, purple is Day's favourite colour. He was pleased to open his randomly selected brown paper bag to find silk fabric in Resene Belladonna when the project began in March.
"Expect the name Michael Day to make an impact in streetwear design in the future after a head-start as winner of Resene Colour of Fashion with Whitecliffe Fashion Tech in 2020," Karen Warman of Resene said.
In any normal year the Resene Colour of Fashion designs would open four Resene Designer Runway shows at New Zealand Fashion Week.
But after Covid-19 caused the country's 20th New Zealand Fashion Week to be cancelled, the project needed to find another way to help launch the careers of this year's batch of fashion industry recruits.
Instead, the 2020 Resene Colour of Fashion collection will appear on the runway in front of an audience of industry leaders, the young designers themselves, their tutors, family and friends at the 2020 Whitecliffe Fashion Shows in Auckland and Wellington.
The first show was held tonight at the Auckland Town Hall and the second at Pipitea Marae in Thorndon Quay, Wellington tomorrow.
In addition, the 16 finalists' garments will appear on posters, giving a splash of colour to Auckland and Wellington streets this summer.
The 2020 brief asked students to follow the design theme New Beginnings. It read: 'bring the positive emotion you felt as we emerged out of lockdown to your design; moving out of darkness into light; entering a slower, kinder, gentler, lighter world; appreciating connection with others; and looking towards brighter days ahead.'
This year Dame Pieter Stewart, founder of New Zealand Fashion Week, joined the judging panel with New Zealand Fashion Museum curator Doris de Pont, founder of NZ Fashion Tech (now Whitecliffe Fashion Tech) Val Marshall-Smith and Resene marketing manager Karen Warman.
Warman said: "With the challenges of 2020 and without New Zealand Fashion Week as a showcase, we're pleased we forged ahead after postponing twice.
"Every year we love seeing creative young people immerse themselves in their Resene colour and produce a stunning look. This year their work combined new elements: a new brief, their Resene colour, their lockdown experience, their fashion inspiration, the people who have influenced them most in their lives and the guidance of their talented tutors at Whitecliffe."
Whitecliffe chairman Feroz Ali added: "We treasure the long-standing partnership with Resene. Each year, the Resene Colour of Fashion project offers an incredible opportunity for Whitecliffe Fashion Tech students to showcase their skills to industry, family and friends."