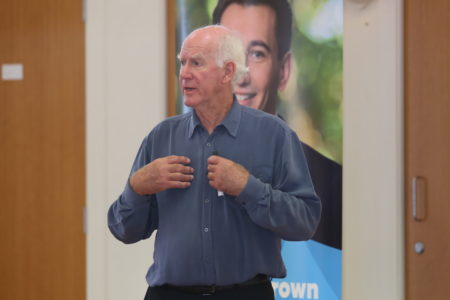 Bang. He put a shotgun to her throat and killed her from close range.
When the police knocked at David White's door to inform him that his daughter Helen had been shot by her husband Greg Meads, a feeling of shock and intense grief took over as his life flashed past him.
The last 10 years saw him move home to Matamata to be close to his daughter and included talks about fixing things, working on the stud farm with her while thinking the threats and abuse were one-off incidents.
"What an idiot I had been to never once see a pattern to the violence," White said.
The shattered father, who has been on a mission to create awareness about the warning signs of family violence and prevent other women from walking in his daughter's shoes, or other fathers suffering the same fate– was at the Fencible Lounge this week at the invitation of  Pakuranga MP Simeon Brown.
White has been on the road since February, covering the length and breadth of New Zealand. He intends to cover 71 electorates to share his story. He also visits prisons, talking to gang members in an effort to change lives.
"He shot my daughter Helen just because she said, `I'm going to leave you next Saturday'.
"Her husband, a wealthy horse breeder, spent the next three days planning how to kill her.
"Family violence is not restricted to a low socio-economic group or to South Auckland. It doesn't discriminate between colour, race or wealth.
"When the police informed me that my daughter had been killed by her husband, my immediate thought was that I didn't want to live without my first-born. I wanted to commit suicide," said White, who admits he was a coward.
His wife Pam reacted differently. Her first response was: "At least that b**** won't be able to hurt my daughter anymore."
At 65, just when David thought he would retire, the bereaved granddad suddenly had the responsibility of looking after three children with the youngest nine-years-old.
"How do you tell a nine-year-old that her mother has been shot dead by her father?
"Though my daughter was murdered 10 years ago, we still feel the impact to this day. We've been scarred forever. It's changed all of us.
"Samantha started wetting her bed at 10 years of age. At 18 Sam went out for dinner with her boyfriend and when the host casually asked her `what do your parents do'? Sam just left the dinner table, walked out of the door and sat in the gutter bawling her eyes out. She called me on my cell phone to say `Granddad can you please come and get me now'."
Talking about the traumatic journey for both the granddaughters and how differently they dealt with it, he said that the court battles took their toll on everyone.
If there are two words in the English language that you should never have to say, they are "if only!"
"I always thought that my son-in-law, who owns a stud farm with 40 mares, had no social skills. If only I had seen the signs earlier, none of this would have happened," he said.
However after going through a gamut of emotions of hurt, anger and sorrow over the years, White felt that he needed to do something constructive about the perpetrators of crime, to end family violence. He also believed it was also important for his grandkids to have a future with their dad.
"I'm not going to live forever," he thought.
White drove down to the Tongariro Prison to visit his son–in-law. He hadn't informed his family of what he was about to do.
Greg is currently serving a life sentence with a minimum non-parole period of 11 years that could be extended to 15 or 17 years.
At 74 years of age, White arranged a mediation meeting with his son-in-law.
"Though at one time I felt that 11 years is way too short for my daughter's death, I now feel that 11 years is way too long for my granddaughter. I don't want her to be a statistic. I spoke to the parole officer and told him of my plan of how he could get him an early release. I also want Greg to help other prisoners who have been involved in family violence."
White said that his grandchildren were horrified when he broke the news to them that he was going to get their dad out.
But he said he sees a gradual change in them and believes it will bring more stability in their lives.
"To stop people from falling into the river we have go to upstream and find out why they are falling," he said.
White urged people to use their local MPs to get more information so that they could use the knowledge and resources that MPs have.
While White is determined to help get his son-in-law out of prison, when asked if he had forgiven him, he said, "While Pam and I have accepted it, I did tell Greg, don't ever expect us to forgive you for what you have done."