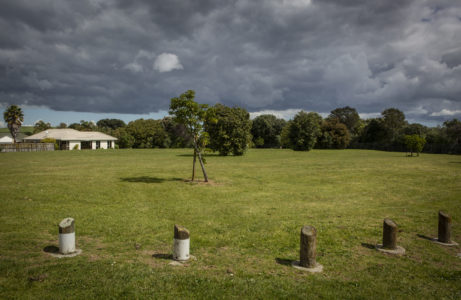 The Government's yo-yoing in and out of Covid-19 lockdowns is delaying the process required for the proposed revocation of reserve status of five public green spaces in east Auckland.
Their reserve status must be revoked before they can be put up for sale.
Auckland Council's finance and performance committee voted late last year to dispose of 83 council-owned properties across the city to raise money from "asset recycling".
Among the properties it wants to sell are public reserves at 9R Fortyfoot Lane, Sunnyhills; 111R Golfland Drive, Botany; 76R Aberfeldy Avenue, Pakuranga; 72R Karaka Road, Beachlands; and part of the site of a gas station at 2R Ti Rakau Drive, Pakuranga.
The properties' sale is being managed by council agency Eke Panuku Development Auckland.
Approval to sell the properties is subject to the conclusion of required statutory processes.
For the sites classified as reserves under the Reserves Act 1977, a process for the revocation of reserve status, including public and iwi notification, is necessary before land classified as a reserve may be lawfully sold.
The council publicly notified and sought public and iwi submissions on its intent to revoke the reserve status of 20 properties across Auckland in February this year.
At the end of the notification period, 1344 submissions and two petitions were received from the public, along with two submissions from mana whenua.
Of those submissions, 1145 related to the properties in east Auckland, with 538 submissions about the five local sites rather than individual properties.
None of the submissions the council received were in favour of the properties' reserve status being revoked.
In June, Eke Panuku asked the council's regulatory committee to appoint six independent commissioners to consider submissions about revoking the properties' reserve status.
The commissioners are tasked with reviewing all submissions, making site visits and hearing from people who asked to have their submissions heard.
They'll then make recommendations that will be reported to the council's parks, arts, community and events committee for a decision on whether to forward requests for reserve revocations to the Minister of Conservation for final approval.
An Eke Panuku spokesperson told the Times the commissioners were set to hold hearings on the east Auckland properties at Nixon Park Community Hall in Cockle Bay on September 1-2 with an overflow date of September 3 "should more time be needed to ensure everyone is heard".
But that failed to eventuate because Prime Minister Jacinda Ardern placed Auckland back into a Covid-19 lockdown for an initial period of three days on August 17.
The city is currently in alert level three lockdown.
On August 26 the spokesperson said the hearing dates for the east Auckland sites had been rescheduled and were to be held at the same location on September 22-23, with an overflow day on September 24.
"The team are contacting all submitters directly to update them on this change."
Then, on September 15, it was announced that due to the Covid-19 alert levels, the hearings had been moved to October 11-12, with an overflow date of October 13.
On October 7 they were delayed further and are now scheduled to be held on November 22-23.
The council's hearings team is again contacting all submitters to notify them of the latest change to the hearing dates.