Arthur Moore is 82, resilient and full of hope.
The Pakuranga resident has bowel cancer and, for five weeks, took two buses every weekday to Auckland Hospital for radiotherapy treatment.
It was on one of those travel days into the city in June that he stumbled while trying to catch his bus, the city-bound Howick & Eastern 70x.
It was a nasty fall and one which landed him in hospital for five days with a brain bleed.
Despite the set-back, Arthur remains upbeat and is eternally grateful to the bus driver that day, and a couple of passengers who came to his rescue. After getting him aboard the bus and patching him up, the bus driver made a diversion and dropped Arthur at Auckland hospital.
Driver Sandeep Singh, 32, of Pakuranga, was at the wheel negotiating morning rush-hour and witnessed Arthur's fall.
"It was just a normal morning and I was travelling on Pakuranga Road in heavy traffic. As I moved off, I saw an old guy, in my left side mirror, lose his balance and fall down," said Sandeep.
"I parked and just went to him."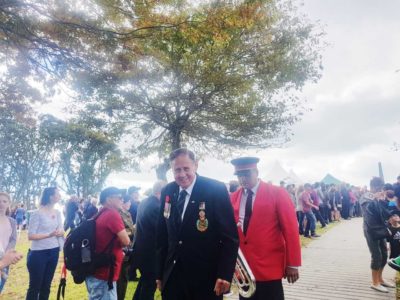 Two other passengers on the bus helped – a woman with bandages and a man who helped get Arthur on the bus.
"There was a big cut on his eye socket and a lot of blood coming out. I decided I couldn't leave him. He told me he was on blood-thinning medication," Sandeep said.
"I offered to call him an ambulance but he said he was okay."
Getting Arthur to the hospital required some resourcefulness on Sandeep's part given the hospital is not on his route.
"The 72x goes down the motorway to Symonds Street, not Khyber Pass. I figured I could take Khyber Pass and still manage my first stop," Sandeep said.
He radioed Howick & Eastern Buses and got the go-ahead to change course. And he managed to make all his stops in time too.
Arthur's partner Sue Bentley was moved by Sandeep's act of kindness. Arthur took two buses, one from Pakuranga Road to Panmure and then a second bus from Panmure to the hospital.
"While running to catch the bus at Pakuranga Road he fell over, hitting his head and hurting himself quite badly, he still got on the bus worrying he would miss his radiotherapy appointment," Sue said.
"Not only did the driver of this bus help look after him but instead of taking the direct route (which was his schedule) to Britomart, he made a detour and dropped him off at Auckland hospital. This was extremely kind especially as when Arthur arrived at hospital they found he had a bleed to the brain."
Arthur is full of praise too. "When I fell over behind the bus, Sandeep could have driven on, however, he and a passenger helped me to my feet and got me on the bus.
"If he is not a hero, he went well beyond his duty to help me and I am very grateful."
"I would like to thank all these people who helped me, especially Sandeep."
Troy O'Dea, operations manager at Howick & Eastern Buses, spoke of the "excellent service and community-minded assistance" many of its drivers have delivered over the years.
"We are excited and grateful that Sandeep has been acknowledged for his actions, we would also like to acknowledge the assistance and care given by the other passengers onboard the bus, all of whom agreed to allow Sandeep to disrupt their journey and go off route directly to Auckland Hospital," said Troy.
"In a world where so many people are focused on a small screen, it is refreshing and heart-warming to see a group of strangers band together during a time of need for one person."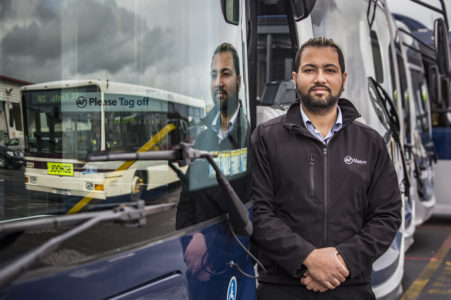 Sandeep, who has worked for the company for four months, said he did what any person would have done. "Hero? No. I just did what other people should do. I'm just a citizen who just wanted to help."
Meanwhile, Arthur who took buses for his appointments as there was no parking at the hospital, has an appointment today which he hopes is positive.
He's over the brain bleed and is bracing himself for further news of how his radiotherapy treatment has gone.
"If any other people in the district would like to contribute to a bottle of whiskey for me, I'd be grateful."