As Howick and districts count down to the 175th anniversary, the Times continues its series by Alan La Roche giving readers a glimpse of life as it used to be. The countdown began at the 170th in 2017.
In pre-European times, Maori used beating a slab of wood gong, or a hollow log and smoke signals, to communicate.
The first European settlers walked to Auckland or used the ferry.
The Fencible soldier-settlers were woken in the morning with a brass bugle or cow's horn to start work. A church bell was rung if there was a fire to initiate a bucket brigade from the nearest well. In the Waikato War of 1863, flag signals from Howick Stockade communicated with Panmure Redoubt (below St Matthias Church), Otahuhu camp, or Redoubt Road stockade.
Fencible James White was Howick's first postmaster in Elliot Street, next to Blundell Park of today.
From December 1848 mail was brought from Auckland twice a week by Ngamapu, a bare-foot Maori mail runner who lived near Elliott St, taking about four hours.
Fencible soldiers could post a letter home for one penny. Settlers had to pay two pence per letter.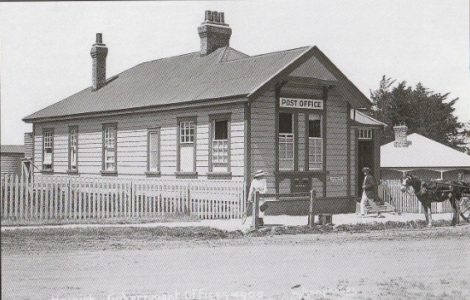 In 1854 James built a two-storied General Store in Moore Street. James was "the honorary sub-deputy postmaster without pay".
Customers had to call to collect their mail. Sometimes James delivered the mail if it looked important. In 1855 postage stamps were introduced and a date-stamp for Howick was introduced in 1862.
The mail-runner position was advertised by tender and a European with a horse replaced Ngamapu in 1858.
In 1866 "adhesive label" stamps were introduced with the sender paying for postage instead of the receiver. Newspapers had lists of unclaimed letters. Letters were eagerly read, re-read and treasured.
In 1883 Rachel Wagstaff opened her General Store and Post Office in Howe Street. Her blacksmith husband George had the contract to collect mail from the Ellerslie Railway Station.
In 1885 Wagstaffs opened a telegraph office to receive and send telegrams. Fred Wagstaff, her adopted son, used to deliver the telegrams. The Post Office moved to Picton Street into Sarah Bryant's cottage while the new Howick Post Office was opened in 1906 complete with a horse trough and hitching rail.
The first residential mail delivery started in 1930. The telephone line arrived in 1909 and by 1913 Howick had 15 telephone subscribers. The postmaster lived in a house behind the post office. During World War I, he would get on his bicycle and deliver telegrams about soldiers killed in the war.
In 1935, telephones could be used from 6am until 12 midnight during the week but only 8am until 8pm on weekends. In 1969, Howick residents could free-call Auckland without paying for a toll call. In 1972 the new automatic telephone exchange opened in Willoughby Ave.
After the Howick Volunteer Fire Brigade started in 1931, the telephone operator started the fire siren and phoned the 10 firemen.
Locals sometimes lifted the telephone to get 'what movie is on at the Monterey?" or "how do I make a cheesecake?' "
A few public penny slot telephone booths were erected.
The wooden Post Office was demolished in 1970 and replaced with a Japanese style building which closed in 2019. Modern technology has significantly changed how we keep in touch.
Alan La Roche
Howick Historian