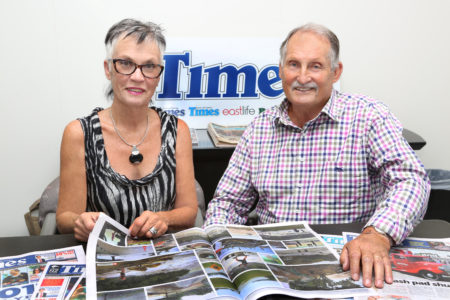 No doubt about it, the media environment has radically changed but, as Seven Sharp found out when it came to the Howick and Pakuranga Times, community papers remain a very critical part of our lives
The newspaper industry – like retail – has faced monumental change in recent years with the advance of technology and social media.
The way in which audiences – -particularly the younger demographic – tap into news will never be the same. Globally, print media companies have had to adjust the way in which they reach out and connect with their communities.
We are seeing the bigger, dominant players usher in massive changes to news delivery with a focus more on digital and entertainment. The failure of NZ's two dominant media giants – both owned offshore – to merge has seen dramatic changes to the landscape already.
This was most telling with the redundancies this month of more than a dozen journalists at its suburban mastheads around Auckland. The result, sadly, is an homogenised 'local' paper in regions throughout this city which carry no local content, nothing of relevance to the people who live here.
Which is where independently-owned companies like ours come into their own. As locally-owned newspapers, we focus on our coverage areas with a passion, to bring readers hyper-local news – good and bad – from within our tight-knit communities.
And we're not the only community papers like this. There are around 85 at the moment (who like us belong to the NZ Community Newspapers Association, operating around the country on a very personal level. That's what we do. We focus only on local content and we're all thriving in this tricky media environment.
This seems to be borne out in a recent research phone company 2degrees commissioned asking more than 2000 Kiwis how they communicate in their communities, where they get their local news from, and what role technology is playing in all of this.
The key finding is that 29 per cent of Kiwis said that they find out about what's going on in their communities by reading the local paper or magazine. This was the leading response, surpassing social media, Neighbourly and other forms of communication.
Surprising? A little, but encouraging that we are the go-to for local news stories – big and small – and events and sports and Nana's 100th birthday. We like to be there when your school shines and your athletes and scholars excel. We try to keep you informed about your roads and beaches and heritage spots. We knock on council's door for you too asking some of those annoying questions.
As important as our readers of course are our advertiser who also realise this newspaper is the perfect medium to reach their customers (not withstanding difficulties we are struggling to address with the third-party company that delivers our papers).
For that, we thank you all so very much.
Featuring on Seven Sharp this month was a nice way to convey some of this. If you didn't see it, here's the link or view it on TVNZ.
When asked: what is the main way you find out what's going on in your community:
29% of Kiwis say: Reading our local paper / magazine
23% say: Through social media (page or chat group)
12% say: via Neighbourly
9% say: I have a neighbour/ friend who knows everything that's going on in the community and they give me the low-down
4% say: At school
3% say: Neighbourhood watch group newsletters
3% say: Chatting at the pub/ café
3% say: Reading the supermarket notice board
2% say: Regular neighbourhood meetings