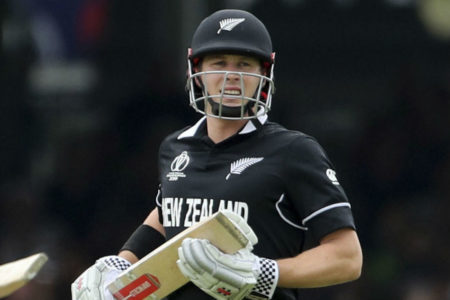 Cricketer Henry Nicholls displayed true grit and not a little class when he scored 174 as the main contributor to New Zealand's first innings 460 at the Basin Reserve against the West Indies.
He needed it too to justify his retention ahead of some strong challenges after suffering a long, lean trot with the bat.
The bonus was bowler Neil Wagner's belligerent 66 during an innings when Will Young justified his promotion with 43.
Better was to come when Tim Southee (5/32) and giant Kyle Jamieson (5/34) bagged all the wickets when the Indies were dismissed for a miserable first innings 131.
Once upon a time the West Indies pace attack was the most feared in the world. That is no longer true with Australian and New Zealand bowlers far more menacing,  especially on their own lively wickets.
Yet gutsy bouncer Wagner was the only one to win the Baggy Caps respect during the Black Caps miserable tour of Australia last summer.
Still Southee and left-armer Trent Boult have been consistently outstanding and relative newcomer Jamieson has been a revelation with both bat and ball.
Having taken a then world record 431 wickets, Richard Hadlee remains our greatest bowler with Southee having nabbed 294 and Boult 272 with plenty more to come.
With the injured Lockie Ferguson emulating Shane Bond's 150km per hour thunderbolts, the current crop has greater depth than any time in New Zealand's cricket history.
Not surprisingly, Ross Taylor's army of fans was shocked when the great one wasn't selected for the T20 squad to play Pakistan.
At 36 he's not past it, just as Southee, at 35, is far from it.
Taylor's fans were also upset years ago when aggressive Brendan McCullum replaced him as captain though coach Mike Hesson's decision proved justified despite strong criticism from Taylor's mentor, the late great Martin Crowe.
To Taylor's credit, he bit the bullet and gave wonderful service to McCullum and the team, just as he has to brilliant Kane Williamson since.
Although I welcome the emergence of South African-born Devon Conway to the Black Caps T20 side and hope he will also be granted test status, Taylor still has much to offer a team that is very difficult to beat on home soil.
Meanwhile having scored a ninth round knockout over Kubrat Puley, WBA, IBF and WBO heavyweight boxing champion Anthony Joshua says he's ready to put his titles on the line in a unification bout against Tyson Fury who punches almost as fast as he talks.
If that eventuates it will be the first time since Lennox Lewis in 1999 that any heavyweight has held all four titles.
That there are so many is ridiculous and an indictment on promoters who promote bunnies to make a quick quid or buck.
Having scored a controversial draw against unbeaten American Deontay Wilder, Fury shocked the boxing world by knocking out the dynamic punching WBC champion while
Joshua regained the title he lost to Andy Ruiz Jnr who played a fat playboy instead of training like a true champion.
With Joshua and Fury both regarded as the real McCoy, true boxing fans eagerly await their reunification fight.
Ivan Agnew is an award-winning sports writer.