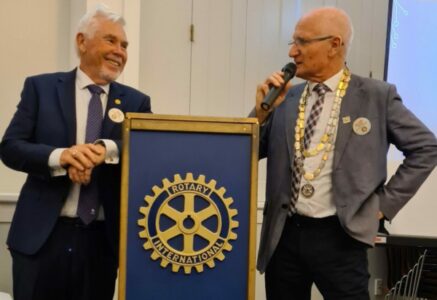 In keeping with Rotary International timetables, Rotary clubs all around the world conduct an annual roll-over of leadership close to the middle of the calendar year.
For Pakuranga Rotary Club, this event took place at the Howick Club last Monday night when about 55 members, partners and guests witnessed the hand-over of the presidents' chain of office from Allan Vester to Mike Collins.
After a buffet meal, Vester expressed appreciation for his outgoing board members (directors) and others who had contributed to his challenging year in office. He was also pleased to announce that Ian Handisides would be the recipient of his President's Cup award for loyal service over the year in a variety of roles.
As the new president, Collins used the 2022 – 2023 Rotary Theme 'Imagine Rotary' as the principal focus for his visions for the year ahead.
Among these is a desire to reinvigorate those projects and activities for which the club has had a proud history but also to initiate new plans with a view to attracting particularly younger people to the club as members, "a happy blend of past and future in the usual spirit of fellowship and the desire to serve our community".
His incoming board was introduced comprising a mix of long-standing Rotarians with some of the newer members.
Keynote speaker on the night was former National Party cabinet minister and Pakuranga MP Maurice Williamson who, in his inimitable style, gave an entertaining and enlightening exposé of his working, political and diplomatic background over the years, said Pakuranga Rotary's Peter Woodcock.