Pakuranga United Rugby Club (PURC) Premiers let a win slip through their fingers on Saturday, going down 29-19 to the College Rifles.
PURC were within striking distance at 22.19 with five minutes to go in the match, PURC director of rugby Pita Alatini said.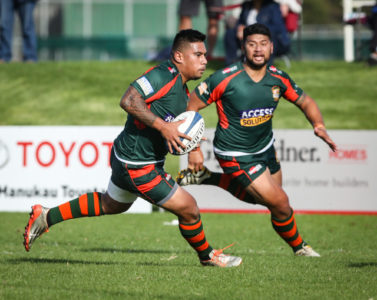 "We had our opportunities but we just didn't take them," Alatini said.
"Going up against Waitemata this weekend, we really have to use that as a springboard into the second round (of the Auckland Premier competition)."
Rifles had additional incentive knowing a loss on Saturday would have put them in the bottom eight. "They were quite desperate to win that game," Alatini said.
"We weren't smart enough to win it but knew it was our game to take."
The Prems showed a lot of encouraging signs for the move into the second round of the competition. They sit second (25 points, five wins, 1 loss) behind Ponsonby (27, five wins, 1 loss), Rifles are third (21, four wins, 2 losses) and Waitemata fourth (20, four wins, 2 losses).
RESULTS
Access Solutions Premiers 19 – 29 College Rifles
Tries: Sanele Williams x 1, Saleaula Silipa x 1 and Sione Ahokovi
Conversions: Hawaii Ahokovi x 2
Half time: 12-17
Man of the match: Michael McBeath
Marie Raos Ray White Premier Development 33 – 34 College Rifles
Tries: Desmond Spooner x 1, Quentin Hill x 1, Travis Graham x 1, Stefan Williams x 1 and Rupert Van der Pol x 1
Conversions: Benjamin Lyford x 4
Half time: 7-26
Man of the match: Des Spooner
Safari Group U20s 67 – 5 Suburbs
Tries: Sam Beere x 2, Michael Kosetatino x 2, Tyler Casey x 2, Sean Wilkie x 1, Leander Du Plessie x 1, Nathan Limm x 1 and Corne Ludick.
Conversations: Armani Wright x 7
Penalties: Armani Wright x 1
Half time: 36-0
Man of the match: Bailey Larsen
PIC Insurance Brokers U85kg Taipans 40 – 0 College Rifles Shooters
Tries: James Davison x 2, Michael Taylor x 1, Thomas Heeringa x 1, Dylan Campbell x 1 and Jason Littlefield x 1
Conversions: Jason Littlefield x 5
Half time: 26-0
Man of the match: James Davison
Greenstuff Presidents 45 – 20 Grammar Tec
Tries: Steve Kitchener x 2, Crazy Al x 2, Mark Baker x 1, Sam Boggs x 1, Michael Tucker x 1, Brad Mitchell x 1 and Craig Pokinghorne x 1
Halftime: 25-5
Man of the match: Craig Pokinghorne