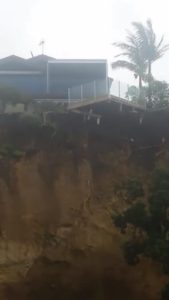 An Eastern Beach home is resting precariously above a cliff after an enormous chunk of the cliff gave way, according to a social media post.
Ben Dellabarca posted amazing video on a closed Facebook page at around 4.30pm showing the cliff giving way. The incident happened around midday, he said.
"This just happened along the cliffs by Eastern Beach (along Clovelly Road). My dogs were under it only a minute before it fell! Have tried contacting the owners of the house above but they weren't home."
The Times is trying to get more information.
The situation is similar to one in 2008 which eventually claimed the Clovelly Road house of former Manukau City mayor Sir Barry Curtis.'