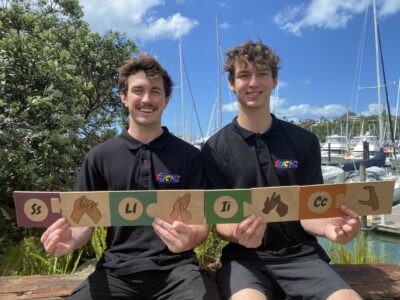 An innovative business created by a group of Pakuranga College students have been making strides in their aim to promote the knowledge and use of New Zealand Sign Language within Aotearoa.
Sign Language Interactive Cards New Zealand (SLICNZ) was the winner of the 2020 Lion Foundation Young Enterprise Scheme. Their mission was to spread awareness and knowledge of NZSL, which resulted in a pack of 52 standard playing cards.
There are 13 designs included in the pack, with each design showing a character doing a New Zealand Sign with the English translation of the action. They were sold directly to schools, early learning centres and members of the public and, during the student's entire Young Enterprise year, proved to be very successful, says the CEO of SLICNZ Ned Verrall.
The following standard pack included the Māori word for each NZSL character.
SLICNZ's latest developments are an exciting and creative way to learn the letters of the NZSL alphabet: an alphabet pack and alphabet puzzle. They also have a free app that people can test themselves on the signs that SLICNZ has created.
Additionally SLICNZ are aiming to highlight individual Auckland districts by donating a pack of cards to every school within that community with the first being the Hibiscus Coast.
During Te Wiki o te Reo Māori, SLICNZ offered a discount code for their cards, including their Māori jumbo packs, which are four to five times the size of a regular playing card.
"We had such a positive response from New Zealanders across the country regarding these packs which incorporate NZSL, Te Reo Māori and English," SLICNZ CFO Riley Tibbits says.
Deaf Aotearoa, which provides nationwide services to the NZ deaf community, and SLICNZ share a close working relationship, a connection that was formed during the Pakuranga College students' Young Enterprise Scheme year.
The SLICNZ team were invited and attended the annual launch of NZSL week hosted by Deaf Aotearoa.
"They've been incredibly supportive," Verrall says.
For the future, SLICNZ is looking to diversify its product offerings by producing resource packs composed of multiple physical and digital resources used in teaching NZSL. They also want to create a YouTube channel for school teachers with clips that aid in the learning of NZSL.
Sign language, Verrall says, is an extremely helpful and handy thing to know. "It's also incredibly easy to learn," he says.
SLICNZ hopes to continue bringing awareness to the deaf and hard-of-hearing group within New Zealand and educating New Zealanders on various NZSL signs and words.