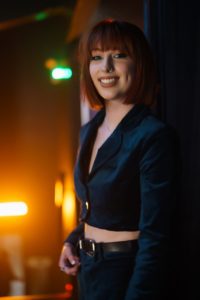 From high school drop-out to the winner of Popstars – Christabel Williams' journey to reaching the stars has been inspiring and incredible.
The 20-year-old Howick musician was crowned winner of the popular televised singing competition on Wednesday night.
She took home the $100,000 prize in front of an excited crowd.
"I was pretty shocked," Williams said.
"It was the most intense feeling of freedom in my life."
A stand-out from the start of the show in April, Williams was chosen by Popstars panelists Kimbra, Nathan King and Vince Harder as the deserving winner after "careful consideration of her vocal ability, song-writing skills, stage presence, initial uptake of her brand-new single If You Ain't Looking, and growth as an artist through the various challenges and industry workshops undertaken over the series," TVNZ said.
Williams' challenges on the show centred on her troubles with ADHD and anxiety.
As she previously told the Times, she has had issues with self-doubt over her performances and high expectations she puts upon herself.
Kimbra said that she was grateful that Popstars showcased the troubles that musicians can have on their journeys.
Williams agreed. "It's nice that people can see the pressure that artists are under."
Despite the challenges she faced, Williams has expressed gratitude for the show and the growth she's achieved on her journey.
"Popstars had helped me gain confidence in myself and music," she said.
Williams' single If You Aint Looking was topping the NZ iTunes charts at the time of her win.
She hopes to explore her music in the future.
"I don't want to stick to one genre," Williams said. "I want to try a lot of different things."
Her plans are to release new songs – including Ankle Deep that she performed on the show – and write an album "and maybe do a tour and shows".
She says her proudest moment was at the finals when everyone was singing her song back at her.
She thinks her "turning point" that the judges raved about at the VIP showcase was due to how  comfortable she was on stage, maintaining eye contact and interacting with the audience.
Williams hopes her journey to pursue her passion and talent for music inspires others to "go and do what they want to do".
"I'm incredibly grateful for everything," Williams said. "I don't doubt myself this time."