A Beachlands home that was designed by its owner drawing inspiration from her childhood has won a gold award* at the recent Registered Master Builders House of the Year awards and has been included in the Top 100 Houses across the country.
Owner Robyn said as a child she had a fascination for house design and would draw homes that she hoped she would one day live in.
"Our previous house was a two-storey and very large and my husband and I wanted to move to a single storey that would be more suitable for us as we got older," she said.
"I visited a number of show homes but when I walked into the Pavillion design by Stonewood Homes Auckland East, it was like one of the homes I'd designed as a child."
To say that Robyn had a hand in the customisation of the house design is an understatement, as she in fact, made 78 changes to the house plan.
"Some builders are not happy for you to make too many changes to a house plan, but Stonewood Homes were supportive as I went away and modified the plan based on my visualisation of the perfect home for my husband and I and our extended family, who visit often," she said.
"Basically they helped me to bring my childhood dream house to life."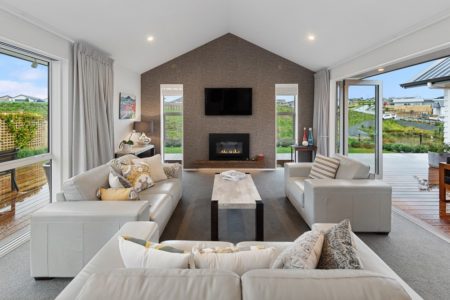 The award-winning four-bedroom home is "H" shaped and separated into two distinct wings. One wing houses a spacious chef's kitchen with scullery for extra storage and preparation space and sits in the centre of two open-plan living spaces with access to the outdoors.
The second wing is home to three spacious bedrooms that share a family bathroom, while the main bedroom comes with a walk-in wardrobe and ensuite.
Robyn said getting the house design right was always the priority and once that was finalised, the couple found a block of land with a beautiful outlook, with views that could not be built out.
"The house has a lovely, serene view and we can walk to the beach," she said.
Stonewood Homes Auckland East General Manager, Jean Dougherty said it was wonderful to win the award and for the house to be named in the Top 100, given the tough year everyone had been through.
"We had a complete closure and then the secondary lockdown, which was very difficult, but we're surprised how quickly the building industry has bounced back," Dougherty said.
"New Zealanders are spending money in the 'backyard' now – in their current homes or by buying new homes instead of spending it on travelling or investing and we're seeing a lot of expats coming back wanting to buy new homes."
Stonewood Homes Auckland East also won four other House of the Year awards in price categories ranging from under $450,000 – $1 million, as well as a show home award.
"We were up against a lot of bespoke builders, so the awards are very gratifying," Dougherty said.
"We have an amazing construction team and great subcontractors and they are all really proud of the homes we are building right now."