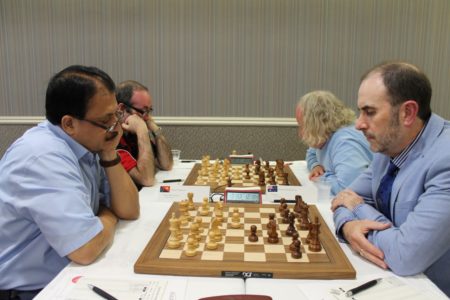 The eighth Asian Seniors Chess Championships are underway at Waipuna Conference Centre.
The event, which runs all week before the prizegiving on Sunday October 15, was put together under chief organiser Paul Spiller of Howick. He was appointed by the Asian Chess Federation and NZ Chess Federation to organise the event. Spiller, a qualified (by FIDE which is the World Chess Federation ) International Chess Organiser, is the current president of the Oceania Chess Confederation.
The event is a highlight on the Asian chess calendar and has drawn big names such as Grandmaster Eugene Torre from the Phillipines, Australian Grandmaster Darryl Johansen and 15-times Pakistani National Chess champion Mahmood Lodhi.
Local names featuring in the tournament include Spiller, Stan Yee and Ben Lim in the over 50 section and Tony Booth and Jim Benson competing in the over 65.
Top performance is crucial – players will be competing for spots in next year's World Seniors event in Bled, Slovenia as well as automatic international titles.
Round by round summaries are available on www.newzealandchess.co.nz.