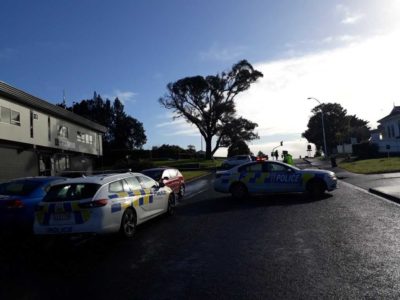 Mystery surrounds the circumstances which resulted in the death of two people after a car was reportedly split into four pieces, coming to rest at the foot of a commercial building in Udys Road/Johns Lane in Pakuranga early this morning.
One media report says the car apparently came off the road, snapping off a lamp post before going down a bank and crashing into the car park of a commercial building.
It is also believed the crash occurred several hours before the vehicle was discovered. There were reports of residents hearing loud bangs in the early hours.
Police were called to the incident around 7.20am. Police confirmed two people were found dead in the vehicle.
"Sadly, a male and female occupant in the vehicle were located deceased at the scene," says Senior Sergeant Jono Chappell.
Investigations have found that the crash took place around 4.30am, Chappell says.
"Early indications suggest that speed appears to be a factor in this crash, however this will form part of the investigation by our Serious Crash Unit."
One neighbour said she was told that the crash happened several hours before police were alerted at around 7.15am.
"Unfortunately they were in the car for all that time before the emergency services were called," the neighbour said.
"Someone came into work in that building after 7am and instantly reported the crash."
She said the driver was "obviously trying to control the car which must have skidded since they were at a very high speed of I think around 200km/h.
"They must have skidded, knocked off a pole and crashed through the fence and into the basement of the building."
One resident said she drove past the crash scene at 6.30am.
All she was able to see what skid marks and the pole knocked over, she says.
She says she had no idea the car was still at the scene and when she later read that two people had died she instantly felt sick.
"I knew I had seen it at 6.30 and hadn't done anything. I wish I'd stopped. Who knows what an hours difference might have made."
The Serious Crash Unit is investigating and diversions were put in place on Pakuranga Road causing traffic chaos this morning.
There are no longer any diversions in place but police remain at the scene of an incident.
Police want to thank motorists for their patience and understanding.
Police want to hear from anyone who saw a dark-coloured Honda Accord near Pakuranga Road around 4.30am.
Anyone with any information is asked to contact Counties Manukau Serious Crash Unit on 09 261 1300.
Formal identification of the victims is yet to take place and police are unable to provide further information at this time.
The deaths have been referred to the Coroner.