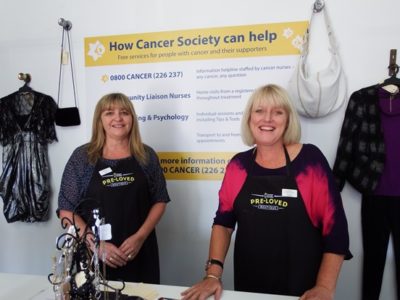 It seems like only yesterday the "coolest little charity shop" opened its doors in Rices Mall, so it's hard to believe the Cancer Society Pre-loved Boutique is now celebrating its second birthday.
Since opening its doors in July 2015, the boutique has served thousands of customers with the help of dozens of volunteers from the local area, and has become an integral and much-loved part of the Howick community.
In just two years, the store has sold 16,000 items, 3,106 womens tops, 800 pairs of shoes and 3,600 pieces of homeware. Thanks to the hard work and generosity of the people of Howick, Cancer Society has been able to provide support for thousands of people with cancer, including home visits by Cancer Society nurses, psychology services, meals, accommodation and transport to treatment.
John Loof, Cancer Society Auckland Northland Chief Executive explains, "The Pre-loved Boutique has really helped people become more aware of the services Cancer Society provides, as well as offering people the chance to give back to their local community through donations and volunteering."
The Pre-loved Boutique offers Howick shoppers a range of affordable, high-quality pre-loved fashion, homewares, jewellery and more. Every time you donate your pre-loved items or shop in store, you are helping provide support for people with cancer and their families.
Store manager Kim Sinfield, who has been in the role since day one, is immensely proud of the store's success and generosity of the community. She says: "The locals have really got behind this cause. It's incredible the types of donations we receive, not to mention the hard work of all the Howick volunteers. This week is all about celebrating, so come in store – the cake is on us!"
For more information on how to shop, donate or volunteer, visit
www.cancersocietyprelovedboutique.co.nz