Cake decorators from all over New Zealand will be converging on Pakuranga United Rugby Club clubrooms next month for the inaugural Pettinice Cake Show and Cake Art Competition.
Cake decorators of all skill levels have until September 20 to register their entry in the cake art competition. The show is on October 19 and 20.
Up for grabs is over $7000 in cash and product prizes, including a $500 'Best in Show' grand prize.
With TV shows such as The Extreme Cake Makers and Cake Walk, cake decorating has become hugely popular for a whole new generation.
Tapping into that interest is Bakels fondant icing, Pettinice, and what better way to show people how much fun this hobby or profession can be than to hold a cake show complete with free demonstrations, hands-on workshops, children's activities and with a competition to encourage cake decorators to try new products and test their skills.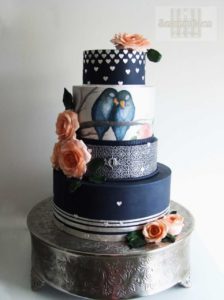 Pettinice ambassador Nina Blackburn is the driving force behind the Pettinice Cake Show and Cake Art Competition. She recently made the news when her heart surgery cake images were blocked by Facebook for being too realistic.
She says the aim this year is to start with the theme 'cake art' for the competition which will bring out the art skills of decorators as they reference a piece of famous or published artwork as their inspiration to create their own cake art interpretation.
There are four categories in the cake competition which include single tier, wedding cake, sculpted cake and a junior category for those under 12.
At the show an image of the original artwork will be on display next to their cake so that people can see where the inspiration came from.
Nina says: "We want to give decorators a platform — an opportunity to try new techniques, test new things that are on the market or hone in on a skill set that makes their heart sing. This is a chance for both hobbyists and working cake decorators to play and showcase our New Zealand talent.
"And for the public it's a chance to meet New Zealand decorators and learn some new skills. You could watch international visitor Joonie Tan demonstrate cakesicles and then attend a workshop on making vintage cupcakes or rice paste flowers for example. You can find all the information you need on the website."
The show is open to the public. Visit https://www.pettinice.com/cakeshow.
WIN! As a reader bonus, we are giving away two double passes to the show as well as a decorator's pack with each double pass.  Fill in the form below to enter the draw, entries close midday, October 10, 2019.