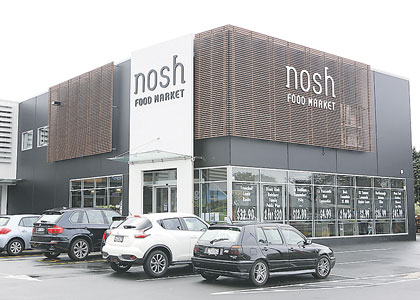 The troubled upmarket supermarket brand Nosh – which has a store in Pakuranga – has been given a little leeway by its bank involving the sale of the business or winding the business down.
NZX-listed Veritas Investments, which owns Nosh Group, this week announced ANZ had agreed to extend delivery of a proposal until January 31.
Over the Christmas/New Year period, Veritas received a number of approaches from potential purchasers of Nosh. Veritas said its board is currently in discussions with several parties in relation to a potential sale of Nosh.
The company announced in September that it had entered into an arrangement with ANZ in relation to the group's banking facilities, the terms of which have since been formalised by the group's entry into a revised facility in October.
The revised bank facility agreement contains a number of undertakings and milestones for Veritas.
"As previously disclosed, Veritas has been undertaking a number of initiatives to improve Nosh's sales and profitability and embarked upon a strategy to franchise the six stores that are currently under company ownership," Veritas chairman Tim Cook said in a statement to the NZX last month.
"This was one of a number of options that the board has investigated in connection with the future of Nosh and one that attracted a strong level of response and interest from potential franchisees."
Veritas, which also owns the Mad Butcher franchisor business, was initially required under the revised facility to deliver by January 15 either an unconditional contract for the sale of Nosh or a proposal to close and wind down Nosh.
The group is also required to close and wind down Nosh by March 31 if it can't be sold by that date.
Mr Cook told the Times there was no update and confirmed all eight stores are up for sale. Six of the stores including the Pakuranga Road store are wholly owned by Veritas while the other two are franchised.
"We are dealing with several buyers who are interested in buying all stores as a whole," Mr Cook said.
There is an issue with one of the stores though.
"The franchisee of the Nosh Constellation Drive store has indicated its intention to operate independently of the Nosh brand, and has purported to terminate its franchise agreement," Mr Cook said.
"Veritas does not accept that termination, and the parties are in dispute over the matter."