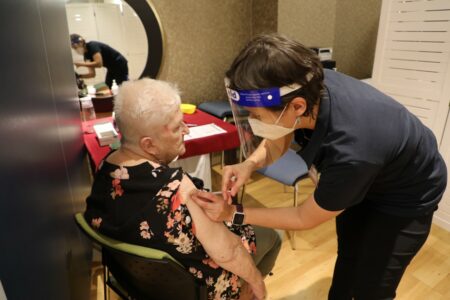 With over 43 people getting vaccinated per hour, Bruce McLaren residents and staff were rolling up their sleeves in droves on Tuesday to be part of the booster vaccination roll out around the country.
The Howick village was among the first of Ryman's villages in the North Island to roll out their booster program, with high participation rates.
Beginning at 9:30am and working alongside Ryman staff, Pharmacy Care Group managed to vaccinate over 300 residents and staff in seven hours.
Serviced apartment resident Georginne Pratt was one of those submitting her consent form to receive the jab, saying she was doing her bit for the community.
"I was happy to get my booster. I would like to protect those around me, and those most vulnerable."
Getting her first vaccination in May, and her second dose in June, Georginne said getting vaccinated through Ryman had been a smooth process.
"The clinics are organised so well, it's a really easy process and we don't have to go very far," Georginne said.
While 296 residents and staff booked 10-minute slots for their vaccinations, Clinical Manager Riffy Jahan-Khan said more turned up than they had booked.
Upon arrival, residents submitted signed consent forms and had their details checked, before lining up to receive their shots. The whole process took around 20 minutes including wait time afterwards.
Another getting their booster today was Village Manager Chantelle Hand, who credits her team for managing to run a successful clinic right before Christmas.
"As soon as the government announced the booster shots, our team worked hard to make sure the clinic here was run as smoothly as possible. Many thanks to our residents as well for a great turn out. Everyone played their part and did what they needed to do to help get it done," Chantelle said.
A bonus for the day – was how little she felt it!
"Have you done it? Was that it? I didn't feel a thing!" exclaimed Chantelle.
Another clinic is planned for next week, which will see the remainder of staff, and any residents who couldn't make Tuesday's clinic get their booster shots.