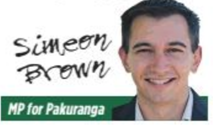 OPINION: Every day in my Pakuranga electorate office my staff and I are focused on helping people. We try to provide assistance to anyone who walks through our door, gives us a call, or sends us an email, and we handle all manner of issues.
We help people requiring social assistance, people trying to access a state house, people struggling to get good healthcare, and people seeking help with immigration, among the many other challenges people face.
When working with those who need help with an immigration issue our advice is always consistent: follow the process, co-operate with Immigration NZ, and don't break the law.
It's a simple recipe. I believe that good things come to those who work hard, and even in my short time so far as an MP I have seen that first-hand with constituents who make the effort to do things the right way.
Sadly, I have also seen many deserving people turned away by Immigration NZ even after following the above recipe. These are hard-working, law-abiding people who want to make New Zealand their home and contribute to our community as best they can.
But this week we learned about Karel Sroubek.
He came to New Zealand on a false passport. He joined a notorious gang. He imported illegal drugs, was convicted, and is now serving a sentence in prison.
Yet for some reason the Minister of Immigration, Iain Lees-Galloway, has granted Karel Sroubek Residency, something that many people covet and that I would argue deserve it far more.
The Minister has so far refused to explain his decision and our own former Minister of Immigration Michael Woodhouse says he cannot fathom why this decision has been made. By all accounts this person simply does not deserve to be here.
I feel for all the law-abiding immigrants in New Zealand who have played by the rules and worked incredibly hard to get here and make a contribution. They bring to our country the skills we need, and they want as much as any of us to make New Zealand a better place.
Despite all that, a convicted criminal has jumped the queue ahead of them and gained something so many good people miss out on, often for some pretty trivial reasons.
It really does beg the question why, and the Government has a responsibility to front up and explain.
Simeon Brown is MP for Pakuranga