By Nick Krause
Clive Butler moves about his East Tamaki workshop with purpose.
There's always a project, always something to fix or manufacture or rebuild. Even with nine cars parked in there (eight classic cars and his modern ride, a Lexus SUV), there's lots of room to move. And that doesn't take into account the multitude of machines which can shape steel or cut metal, mill pre-cast parts (made when they cannot source what they need) and there's even a sandblasting cabinet.
Alvis cars, British manufactured vehicles produced in Coventry from 1919 to 1967, have been getting him out of bed for decades. Clive runs his hand over each of the three as he explains more of their provenance. These three – a 1923 12/40; a 1952 TA21 and a 1963 TD21 – will be the models he'll be displaying at the Brit & Euro Classic Car Show at Lloyd Elsmore Park on March 1.
There is also Alvis which he's working on for someone else and his three BSA classic cars are parked away (one under covers and another being rebuilt) to the side.
Parts. That's what fills up the large mezzanine. It takes careful manoeuvring to slip past panels of all ages and conditions, radiators and other unidentifiable treasures.
On the ground floor there meticulously regimented boxes containing just about every conceivable spare part that might be needed for all kinds of Alvis vehicles. Each and every part has been categorised to a log to ensure easy location – a library if you will.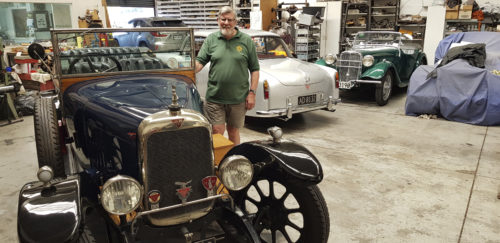 Clive, 76, a former draughtsman (mostly in the field of engineering) explains though that these parts belong to the Alvis Club and were relocated to his workshop as the last spot was small and damp. He pulls a newly-moulded sump cover he's had made for another Alvis follower from a shelf. He'll do the fine milling there himself.
The club itself is a celebration in itself and turns 100 in March, an anniversary many Alvis fans from NZ and abroad will mark with two simultaneous tours – one starting from Bluff and the other from Cape Reinga with the groups converging on Blenheim.
The choice of which to drive is simple. It will be the TD21, which has already been to the South Island four times. Madly comfortable, the 3L six-cylinder beauty is a two door cruising saloon with a top speed of 170km/h and cruises comfortably at 100km/h.
"It's my favourite one, the one I use the most when I'm doing long journeys. There's nothing like driving in comfort," says Clive, from Dannemora.
The TA21, a 3L straight six twin carb classic, is a typical labour of love. "When I got it in 2015, it had been sitting in a shed for 30 years. It's had a complete rebuild and can also cruise at 100km/h."
Arguably the most eye-catching is the crowd favourite – the 12/40, distinctive with it's top down and classic styling. Only 1552 of these 1600cc 4-speed manuals were made and only 40 survive. "So they're rare – they were built as a luxury car with a sporty touch," says Clive.
"It was the first brand new Alvis imported into New Zealand and on the invoice it was guaranteed to do 60mph (100km/) which was quite quick in those days."
It sports an interesting hood ornament too – a hare. "After 1930 it was changed to an eagle I think because it was a little more slick."
With the car show looming and the anniversary tour on April 2, there's much to be done. In terms of hours spent in the workshop, Clive smiles coyly. "My wife Lyn always knows where to find me. She calls the cars my mistresses.
"She is very supportive and comes on all the rallies and is used to doing all the big trips."
Rev Dr Richard Waugh, chairman of the car show committee, says Clive has been to every show.
"Clive Butler has been a great supporter of the Brit & Euro Classic Car Show and his recent Alvis restoration will be a highlight car on display. Registrations have just closed at 1150 classic cars and motorcycles – a record number! All our volunteers are working hard to ensure another memorable free community event in East Auckland."
Auckland Brit & Euro Classic Car Show, March 1, 10am-3pm, Lloyd Elsmore Park. Free entry.