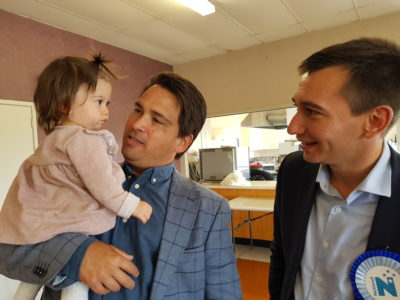 Either they kept the best for the last or then Simeon Brown is National's favourite poster boy.
With Tauranga MP Simon Bridges especially flying up to Auckland to support the Pakuranga MP on Friday morning, followed by Judith Collins spending the weekend pounding the streets in east Auckland – politicians were giving it their best shot with less than a week of campaigning to go.
Watching a very relaxed Simon Bridges address the SuperBlues meeting (National Party's Advisory Group for Seniors) organised by Brown on Friday morning at the Howick Bowling Club, it's hard to tell that the former leader of National Party has gone through different stages of grieving after the political coup a few months ago.
"Yes, I was really disappointed and was mad," he admits to the Times, "but then later I came to see the positives. I get to spend more time with the family and in my electorate now."
He says his Christian faith helped him cope. "I've always enjoyed politics. I still have the fire in my belly and have lots to contribute. I'm very motivated to achieve all the National Party goals and one has to just get on with the job," says an upbeat Bridges after his political roller-coaster ride which saw him ousted as leader.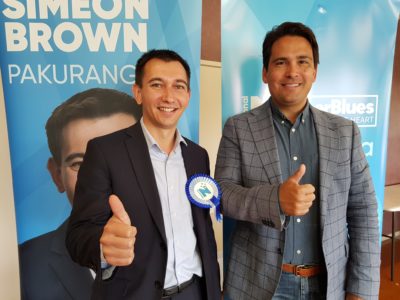 The audience expressed their concern on a range of topics that included a suggested change of name from New Zealand to Aotearoa; an increasing number of gang members that residents are sharing their driveways with, in east Auckland; functioning of Auckland Council; and the loss of human lives and animals aboard a cargo ship to Japan. Bridges says that after knocking on thousands of doors, he is certain this election is not about Covid.
"When I talk to people, they are concerned about their livelihood, losing their jobs, their businesses. People feel that this election shouldn't be about lockdowns and increasing debt.
"For such a caring government, Healthcare has gone down with longer waiting time for surgeries. For the first time in my lifetime, the number of surgeries performed has gone down mainly due to lack of funding.
"As a spokesperson for Justice, serious crime has gone up by 31 per cent. In Tauranga, there are gangs everywhere. The Labour Government wants 30 per cent fewer people in prisons.  It's sending the wrong message to everyone. I believe if you do the crime, you do the time.
Talking about the economic downslide, he says, "Now they have announced a holiday for Matariki and chucked away another $100 million for marae upgrades.
"They want to give away five more days of sick leave," Bridges says of Labour's pledge of increasing the minimum paid sick leave entitlement to 10 days, which will be hard for small to medium businesses struggling to survive."
The meeting had some lighter moments as Brown has some special news to share. Acknowledging his wife Rebecca and his daughter Anna, Brown announced, "You are the first to know that a second one is on the way. The baby will be due in February."