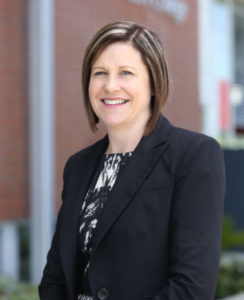 Around 40-50 parents of students studying at Botany Downs Secondary College are up in arms over the loss of a bus route.
And rightly so, says principal of the college Karen Brinsden.
Residents of Whitford were surprised to discover at the beginning of the year that there is no public school bus service from Whitford Village beyond the Somerville roundabout.
"There is a bit of a history behind it," says Ms Brinsden.
"In the year 2013 there was an overlap in the enrolment zone of Howick College and Botany College. Parents could choose which school they wanted their children to be enrolled in.
"But now there is a lot of tension as the Transport Zone is different from the Enrolment Zone."
Ms Brisden is annoyed because there has been no formal consultation from Auckland Transport (AT) or from Auckland Council apart from the generic notice late last year on the change of school bus routes.
"Sadly the distance from Whitford is not viable for the children to walk or cycle since there are no footpaths in the area which is an 80km/h -100km/h road.
"How can they be independent young people if they can't travel to school alone?" she questions.
Wanting to find a solution for children left stranded in Whitford, Ms Brinsden contacted Howick & Eastern Buses as well as AT and is still waiting to hear from them. Desperate parents also contacted the MP for Hunua Andrew Bayly.
Broomfields Road resident Greg Walker, who has a son at Shelly Park Primary and daughter at Botany Downs Secondary College thinks it's ridiculous that while his son is allowed to hop onto the school bus, his daughter cannot board the same bus.
"If you are zoned for that school, the bus should pick up our kids and take them to school. No way am I going to let my daughter walk the 100km/h road which is so dangerous," Mr Walker says.
"They have given up replacing the guard due to the number of accidents. It is a disaster zone," he says.
"Both the parents can't have full time jobs because you are all the time looking at the clock and don't want to be late to pick up your children.
"The school will miss out if they are not proactive since a lot of parents are talking about pulling their children out of the school next term and admitting them to Howick College. Botany College may miss out on students," he says.
On being contacted by the Times AT spokesman James Ireland sent an Eastern Buses route map with a brief note saying: "Attached document is route 739 from Beachlands to Botany, an equivalent service."
To which Ms Brinsden promptly responded saying: "Bus route 739 is not the equivalent, of the former school bus run for Botany students.
"Previously there were three buses, one bus picked up students along Trig Road, another bus picked up students along Broomfields and Griggs Road, and a third bus picked students up from the Clifton Potts loop," she pointed out.
"These three buses met at Whitford Park where one bus brought them to school through Whitford Village to the Somerville roundabout and on to school.
"Current bus 739 only services the Whitford-Maraetai road, turning left at the Whitford Village to Sandstone on to Ormiston and arriving at Botany Town Centre.
"There is no link to tie up all the students in those three different areas in Whitford, to bring them from Whitford up towards the Somerville roundabout and in to school from that direction."
Hunua MP Andrew Bayly says that Botany Downs Secondary School principal and he have been working together to come up with a short-term solution.
"We approached GoBus to provide a service and were told that it would cost around $5.50 per day.
"The previous service cost $1.16 per day, so naturally the parents of the 40-50 affected students chose not to take up the GoBus offer," he says.
"Subsequently I have brought the matter to the attention of both Education Minister Chris Hipkins and Associate Education Minister Jenny Salesa who has direct responsibility for bus services – but to no avail.
"This is incredibly frustrating. (Principal) Karen Brinsden has provided all the relevant information and expressed the need for the matter to be resolved quickly, yet the Associate Education Minister does not see the need for urgency.
"The other issue that has arisen is the increase in patronage of bus services by students out of the Beachlands-Maraetai area which has resulted in safety concerns about overloading," he says.